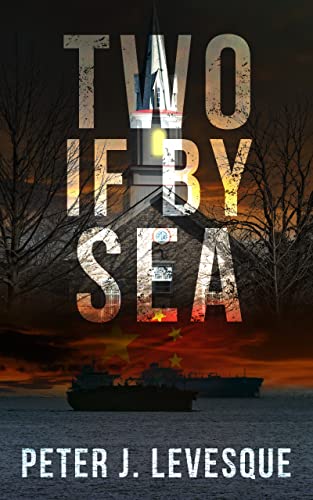 "Two if by Sea" by Peter Levesque has been released worldwide. This 343-page novel brings together elements of international espionage, romance, terrorism, and international politics to weave a riveting story with real-world implications. 
When two ambitious intelligence agents from the CIA and FBI connect to investigate a wave of prisoner executions in China, they stumble upon an Al Qaeda plot against the United States involving stolen nuclear weapons. The resulting mission leads them on a chase for a mole working out of Hong Kong. An unlikely source reveals China's involvement in the terrorist plot and they must find out what Beijing knows before it's too late. In their frantic search for answers, the two agents are surprised to discover one another, sparking a blossoming romance that neither had anticipated.     
Originally conceived as a non-fiction book about America's supply chain vulnerabilities, this fast-paced novel draws on the author's twenty-five years of experience living and working in Hong Kong, as a firsthand witness to the meteoric rise of China on the world stage. Through compelling characters and a plot rooted in today's fraught geopolitical climate, Levesque sheds light on the underlying issues between East and West that could have catastrophic consequences. 
Two if by Sea (ISBN: 9798986320182 / 9798986320199) can be purchased through Amazon. The paperback retails for $15.95 and the hardcover retails for $29.95. A Kindle version is also available. Wholesale orders are available through Ingram. Review copies and interviews are available upon request.
From the back cover:
A wave of gruesome executions in Shanghai cripples a top-secret CIA operation in China and points to an informant who has been selling secrets in Hong Kong. Jim Keenan, a handsome and ambitious prodigy at the CIA meets Laura Bowman, a brilliant and alluring rising star inside the FBI's Counterintelligence Division. Together they set out to capture the informant and are shocked to discover an Al-Qaeda plot against the United States involving stolen nuclear weapons. An unlikely source divulges China's involvement in the plot, and in a frantic race against time, Agents Keenan and Bowman must unearth what Beijing knows before it's too late. Two if By Sea is an electrifying international spy thriller that will leave the reader intoxicated and asking for more.
About the author:
Peter Levesque is an international supply chain expert and author, with more than thirty years of experience living and working in the Asia Pacific Region. He is the past Chairman of the American Chamber of Commerce in Hong Kong and serves on the Board of the U.S. Chamber of Commerce in Washington D.C. Levesque is the author of The Shipping Point, The Rise of China, and the Future of Retail Supply Chain Management, and has been featured on CNBC, BBC, Bloomberg, The New York Times, and The Wall Street Journal. He resides in South Florida and Cape Cod, Massachusetts with his wife Lisa and their three children.
About MindStir Media:
MindStir Media LLC is an award-winning book publisher. To learn more about publishing a book with MindStir Media, visit http://mindstirmedia.com or call 800-767-0531.
Media Contact
Company Name: MindStir Media LLC
Contact Person: Jen McNabney
Email: Send Email
Phone: 800-767-0531
Address:1 New Hampshire Ave Suite 125
City: Portsmouth
State: NH
Country: United States
Website: https://mindstirmedia.com/