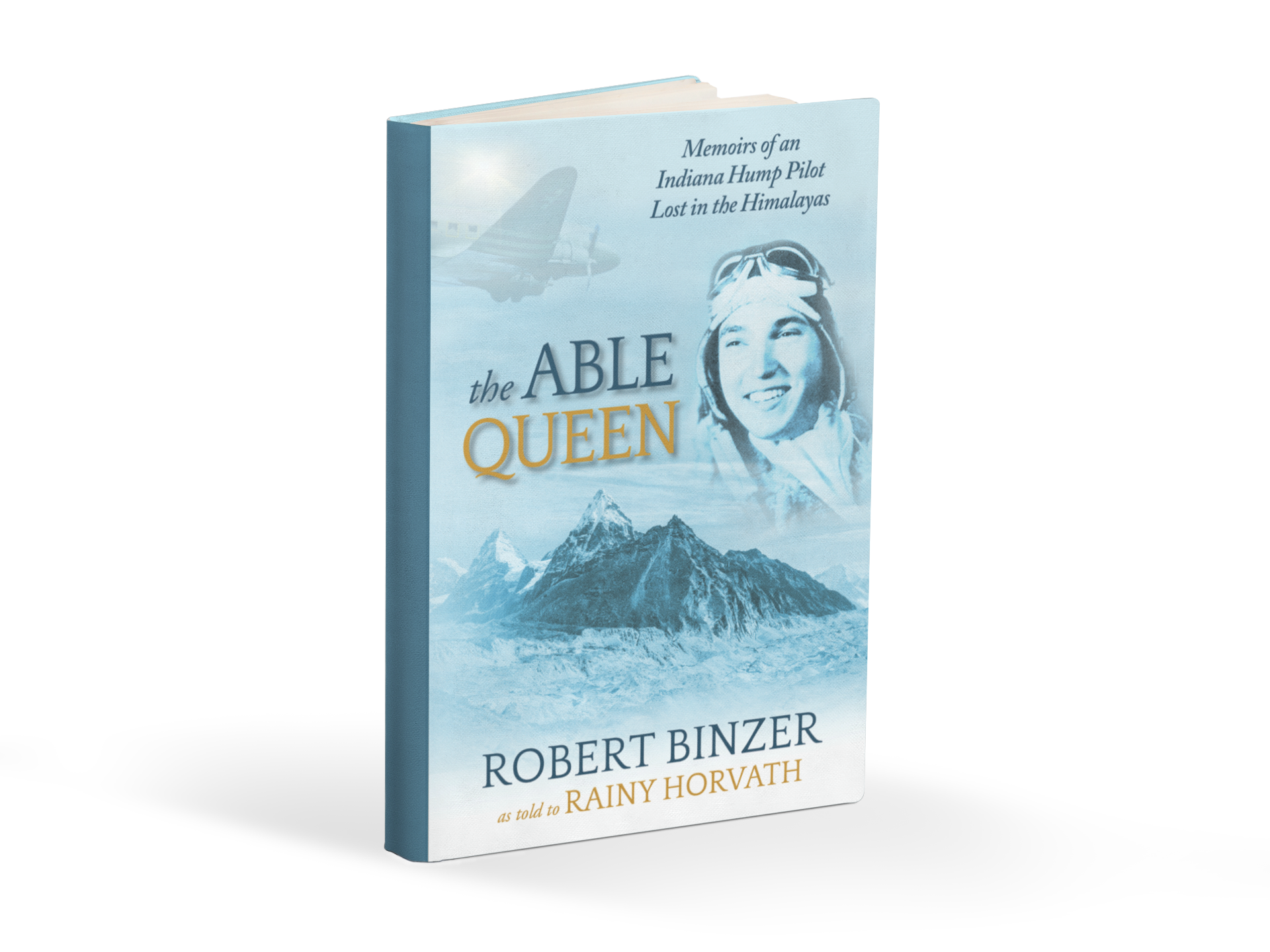 A tale of coming of age in World War II, Rainy Horvath and Robert Binzer's, The Able Queen follows a Hump Pilot with the 14th Air Force flying perilous transport missions over the Himalayan mountains.
The Able Queen: Memoirs of an Indiana Hump Pilot Lost is an exciting memoir that tells the story of Robert Binzer and his experience as a combat transport pilot during World War II, fighting alongside the Chinese military against Japan. Written in first-person, the book is composed of Robert's personal journal entries and was researched, verified, contextualized and published by his daughter, Rainy Horvath. Originally from Indiana, Robert enlisted in the military in 1941 and became a member of the 14th Air Force. He was sent to China where he would primarily serve much of his term in the Himalayas. The book covers several different missions by which Robert would fly "over The Hump"-- the China-Burma-India Hump, to deliver weapons, supplies, and troops. The memoir culminates in his most daunting journey, which left him and several of his other crew members stranded in the Himalayas in 1945, and his difficult return to safety.
"My debut novel began the day I promised my father, during our last visit, that I would publish his memoirs…my experience in writing and publishing this book was transformational, and helped me through the process of saying goodbye to my soldier-father," says Rainy Horvath. An award-winning writer, Horvath holds an MFA in Creative Writing and taught writing for the State University of New York for four years. With a passion to shine a light on one of the least-known theaters of World War II, Horvath hopes to use her father's experience to inspire others to look for the best in every situation. "This book was written to share Robert Binzer's message of resilience and courage and spread the message that in spite of hardship, never quit trying."
The Able Queen offers a rich contribution to literature of its kind. While fans of nonfiction will appreciate the early, detailed descriptions of vintage aircrafts, those who prefer the emotional substance of memoirs will be intrigued by the unique reflections on the greatest war of all time. In addition, the prose comes with a charm of its own. Horvath explains that most of the entries were published as Robert wrote them, to preserve the authenticity of the memoir. Robert's capacity for story, no less during such a tumultuous time surrounded by war, is very impressive. On top of that, Horvath's own additions to the book elevate the read with additional details, context, and a unique perspective on how Robert's experiences shaped him, from his loving and reverent daughter. All of these unique elements combine to create a confluence of emotionality, history, and inspiration.
The Able Queen has been endorsed by experts, authors, and reviewers around the world. BookLife Reviews writes, "This well-researched memoir of a quiet hero is a gem for fans of World War II history. [The book] offers a portrait of extraordinary courage." In addition, Pat Gould, Author writes, "In the memoir, [Rainy Horvath] brings the thrilling story of a CBI Hump Pilot to life in his first-person voice. Pilot Robert Binzer gives details of these often dangerous missions and the difficult choices this courageous man and his crew had to make…It's so important to honor these brave individuals, which is precisely what the author accomplishes with this book."
The Able Queen is an astonishing artifact of otherwise lost history; Robert Dean Binzer and his daughter, Rainy Horvath, promise and deliver an invaluable perspective. Available for sale on Amazon, Barnes & Noble, Apple iBooks and Kobo, readers who want to see a valuable piece of history brought to life are encouraged to purchase their copy today: https://www.amazon.com/Able-Queen-Memoirs-Indiana-Himalayas/dp/173616340X/
About the Author
Rainy Horvath is a writer whose youthful travels took her on the road, hitchhiking across the United States, to gather material for stories. After living in several cities, she made her home in Westchester County, New York. Rainy earned her Master of Fine Arts in Creative Writing from Manhattanville College and continues writing with the Sarah Lawrence Writer's Institute. Her short fiction has been published online and in print.
Rainy's debut novel, The Able Queen, Memoirs of an Indiana Hump Pilot Lost in the Himalayas brings her father's World War II adventures in military aviation to life. An armchair historian studying genealogy, she is currently at work on her next book, the first in a genealogical historical fiction series. To learn more, please visit: https://www.rainyhorvath.com
Connect with Rainy Horvath on Social Media
https://www.instagram.com/rainyhorvath_author/
https://www.facebook.com/profile.php?id=100078446303736
https://www.linkedin.com/in/rainy-horvath-007/
Media Contact
Company Name: Author News Network
Contact Person: Media Relations
Email: Send Email
Country: United States
Website: authornewsnetwork.com