This product was developed by adding a catalyst to the raw material of a filter that filters dust and is characterized by reducing NOx, which turns into a fine dust when it goes out into the air.
"It was developed so that it can be used by applying it to existing dust collection facilities, and it satisfies the fine dust emission concentration of 0.5mg/Nm³ and NOx emission concentration of 50mg/Nm³ included in exhaust gas to achieve improved emission standards," officials explained.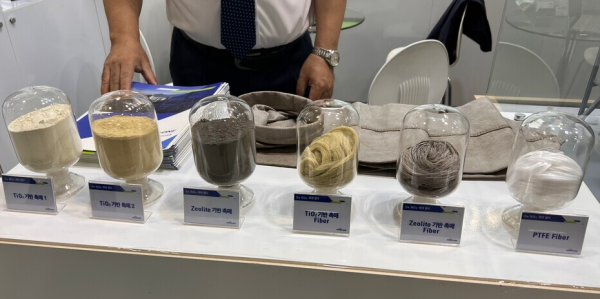 In addition, separate SCR equipment was required to remove 'NOx', but simultaneous treatment is possible with this solution, so it is targeted for use in incinerators, coal, and cement production facilities, and is currently being demonstrated at the incinerator at the Harim plant in Iksan. The company aims to commercialize it next year.
Recognized for its technological prowess, Micro One has successfully carried out a number of national research projects and has been reborn as the best ePTFE membrane filter manufacturer in Korea. In 2022, the development of the De-NOx catalyst filter was completed for the first time in Korea, and Micro One provides a complete solution related to the air, environment, and waste incineration from materials to products and entire facilities.
The ePTFE membrane is a material with high heat resistance of 250℃ or higher and excellent chemical resistance such as acid resistance and alkali resistance and is produced through a very sophisticated manufacturing process of biaxial stretching. The ePTFE membrane has excellent dust collection efficiency and high air permeability based on a pore size of 0.5~3.0㎛ and a porosity of over 80%. In addition, it is laminated on the surface of various filter media to prevent dust penetration through a filter dust collection efficiency of over 99.9%.
The catalyst filter is an industrial bag filter with catalyst-added PTFE fiber manufacturing technology and PTFE membrane manufacturing technology applied. It is a PTFE membrane catalytic filter tailored to small and medium-sized incineration facilities that can simultaneously remove fine dust and NOx in the exhaust gas and can relieve the cost burden of SCR installation by installing a catalytic filter. It can solve the economic and spatial difficulties of existing small and medium-sized incineration companies and can expect dust removal and denitrification effects.
For more information about Micro One, visit http://micro-one.kr/?page_id=596&lang=en
Media Contact
Company Name: Micro One Co. Ltd.
Contact Person: Andy Hong
Email: Send Email
Country: South Korea
Website: http://micro-one.kr/?page_id=596&lang=en