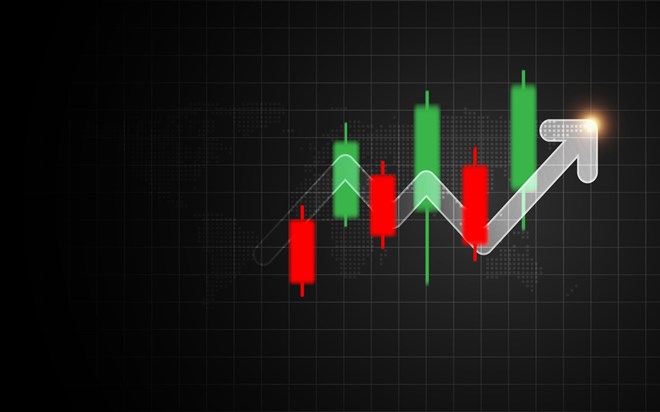 Two trading weeks into the new year, Warner Bros. Discovery, Inc. (NASDAQ: WBD) is putting on quite a show.
No other S&P 500 name is off to a hotter start than the diversified media company. Peers like Disney, Paramount Global and Charter Communications have each racked up double-digit percentage gains — but nowhere near Warner Bros. Discovery's 39% year-to-date surge.
After the stock slid to a 13-year low, the market rediscovered WBD for various reasons. For one, technical indicators have long pointed to oversold conditions. A four-day selloff soon before Christmas pushed RSI and Bollinger Bands levels to extreme lows. 
Second, the recent news flow around WBD has been steady and bullish. A new streaming service, a deal with renowned screenwriter Greg Berlanti and a price hike at HBO Max have brought interest to the stock from both Main Street and Wall Street. 
On Wednesday, Guggenheim upgraded WBD to 'Buy' with a $16.50 price target. The analyst cited a positive narrative for the first half of 2023 and a favorable risk/reward. This helped push the stock's winning streak to 10 days (before Friday's one-penny drop ended it). 
With WBD trading around $13, there's still a 25% upside to Guggenheim's revised target — and a nearly 500% upside back to the March 2021 record peak.
This featured presentation may just be getting started. 
Why is Warner Bros. Discovery Stock Going Up?
CFO Gunnar Wiedenfelds made the most of his appearance at Citi's 2023 Communications, Media, & Entertainment conference on January 5th. He confirmed that WBD's highly anticipated streaming service would launch this spring, the latest entrant to the intense streaming TV battle.
The service will combine HBO Max and Discovery+ and end a lengthy restructuring. Wiedenfelds also noted that the company plans to launch twice as many theatrical releases this year.
WBD then announced that the monthly price of its ad-free HBO Max tier would increase from $1 to $15.99 starting with the next billing cycle. The move is consistent with an evolving industry focus on profits as subscriber growth metrics slow.
In Q3, WBD grew its global DTC subscriber base by 3% to 94.9 million but recorded a steep net loss primarily due to acquisition write-offs and restructuring charges.
The extended rally in WBD shares was also supported by the company's exclusive new deal with director Greg Berlanti. The creator of Netflix's 'You' and other popular series agreed to remain at the studio through 2027. Since Berlanti is widely considered the top name in the television industry, this can only be good for WBD's long-term growth trajectory.
What Are Warner Bros. Discovery's Other Growth Catalysts?
The spotlight on WBD continued to shine following last week's 80th Golden Globe Awards. The studio hauled eight Golden Globes — including Best Drama Series for 'House of Dragon,' Best TV Series (Musical or Comedy) for Abbott Elementary and Best Actor in a Motion Picture for Austin Butler as Elvis Presley.
At the core, WBD's ability to keep cranking out hit TV series and films is its biggest growth driver. With a greater scale from the WarnerMedia acquisition and a crown jewel asset in HBO/HBO Max, the company is now a content powerhouse poised to grab market share across media outlets. 
In the aftermath of Netflix posting its first subscriber loss in a decade, WBD's opportunity to seize customers is huge. Since advertising revenue is a key part of its financials, growing its audience to an undeniable mass will be an important step in attracting ad spending. An improved macroeconomic environment would certainly help in this regard.
While it awaits a streaming ad pickup and integrates WarnerMedia assets, WBD is said to be exploring the sale of its music library. The money from this potential sale would do wonders for the company's leveraged balance sheet, a main deterrent for investors over the past year.
If the music copyrights can garner a price tag north of $1 billion as expected, it would be a positive step towards unwinding a $49.9 billion debt burden.
What Should Investors Expect For WBD's Q4 Earnings?
When it reports Q4 results next month, WBD is expected to post a narrower net loss than in Q2 and Q3, its first two quarters as a combined company. Revenue is forecast to be up 9% sequentially, but this could vary considerably depending on the economy's impact on ad, content and distribution revenue. Foreign exchange movements will also be an important factor.
As a long-term investment, WBD offers good value here. Its top line is growing faster than the overall industry, and profitability should improve as acquisition synergies kick in. 
The beefed-up media giant will be a force to be reckoned with over the next few years — and early signs of traction with its new streaming service could spark another climb up the stock chart. Regardless, this early sizzler will be one to watch in 2023.