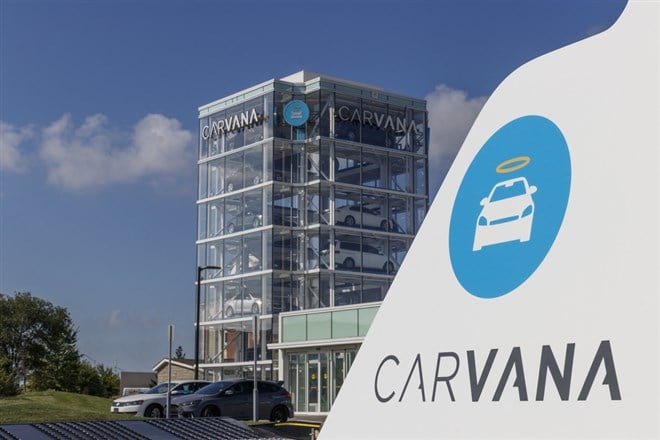 Shares of used-car dealership Carvana Co. (NYSE: CVNA) were a wreck on February 24, trading more than 16% lower after the company reported fourth-quarter results that missed analysts' views by a wide margin. 
The company reported a $7.61 per share loss on revenue of $2.84 billion, down 24% from the year-earlier quarter. The number of retail units sold decreased by 23%, to 86,977. 
Analysts were eyeing a loss of $2.18 per share and $3.06 billion in revenue.
In a letter to shareholders, the company minced no words about its current problems, saying, "The story of 2022 is straightforward."
The letter, authored by CEO Ernie Garcia and CFO Mark Jenkins, explained that the company entered 2022 and positioned for growth similar to what it had experienced in the previous nine years. However, "after the pandemic, snarled automotive supply chains and historically rapidly rising interest rates combined to impact the affordability of used cars dramatically."  
Shifted Away From Growth
Garcia and Jenkins added that rising interest rates and market sentiment shifted the company's priorities from growth and profitability.
"This led to markedly lower volumes than we had positioned for and, as a result, we have been carrying excess costs," they said. 
The company has pivoted toward better efficiency and cost reduction, which is likely code for further layoffs. The company already laid off about 4,000 employees in 2022 and 2023. 
However, to avoid bankruptcy, the company must also pivot back to growth, something it intends to do. That's a quandary, given that growth and retrenchment are different corporate objectives. This means Carvana may continue to sputter along as it tries to reconcile two strategic goals.
On the cost-cutting side, Carvana intends to manage its inventory better and continue mitigating its advertising budget, among other measures.
Ill-Timed Acquisition
On the growth side, Garcia and Jenkins touted the company's May 2022 acquisition of physical car auctioneer Adesa. In hindsight, that acquisition, clearly intended to supercharge growth, was especially ill-timed, as it occurred just months before used-car prices peaked. 
They emphasized, however, that the company's focus remains on efficiency over growth. 
"At this time, we do not expect to make significant near-term investments in infrastructure buildout at Adesa sites given our current focus on achieving near-term efficiency gains by leveraging our current reconditioning capacity," they wrote. 
Carvana shares rallied 114.56% in January, likely as it became the focus of day traders' meme-stock frenzy. 
While trading meme stocks can be a fun pastime, and for a select few, perhaps occasionally offers the opportunity to pocket a few bucks, it's risky business to mess with unprofitable companies amid turmoil. That describes all the stocks that have become memes in the past few years. 
Driving Straight Into Bankruptcy?
In the case of Carvana, the company may be driving headlong into bankruptcy. The company's long-term debt burden stands at $6.975 billion, excluding the current portion, which is the principal and interest due to be paid within a year. That amount is $201 million. 
Of course, while deploying revenue to service the current portion and pay operating expenses, there's not much, if anything, remaining to address that debt load. However, Garcia and Jenkins were adamant that the company can work past its problems. 
Analysts are not so sure, though. After the fourth-quarter report, Wedbush reiterated its underperform rating and Deutsche Bank lowered its price target. 
Although the decline in used-car prices affected Carvana rivals, such as Carmax Inc. (NYSE: KMX), its debt burden and specific missteps resulted in Carvana facing the real possibility of bankruptcy. 
It may seem tempting to scoop up shares and quickly sell them when the stock does manage to tick higher, possibly in tandem with the broad market. However, that's generally called "playing with fire." When a stock faces bankruptcy, even if managers make the right noises about controlling things, the reality of a high debt load doesn't go away overnight or by thinking positive thoughts. Use caution when you see a stock like this.