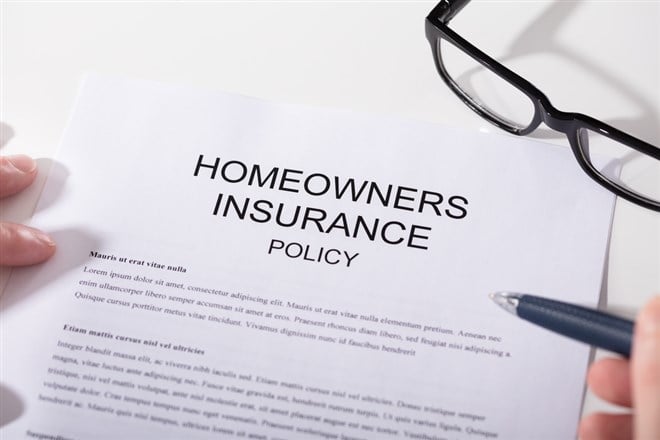 Florida's insurance market is a hot mess. Excessive litigation, fraudulent claims, and a surge in catastrophic weather have left insurers struggling to stay afloat. Universal Insurance Holdings (NYSE: UVE), the largest home insurer in the Sunshine State, is in a peculiar spot. Many insurers have gone broke or left the state altogether, and even UVE is reducing its active policies.
There's hope on the horizon, as Governor DeSantis signed three insurance reform bills. At first glimpse, the industry sentiment is positive. With the worst seemingly behind it, UVE is better positioned than competitors like Heritage Insurance (NYSE: HRTG) to capitalize on the market's distress.
The Florida Home Insurance Crisis
Last year, 6 property insurers in Florida went under, signaling chaos in the industry. Although one would assume that Hurricane Ian and the associated high risks of catastrophic weather in Florida are the main culprits, the primary issue lies in excessive insurance litigation and fraud.
Florida has some unusual insurance laws incentivizing fraudsters and lawyers to sue insurance companies. And if insurers lose the suit, they often have to cover the plaintiff's legal fees, leading them to settle even questionable complaints to avoid further costs. This practice, Assignment of Benefits abuse, has wreaked havoc on the industry.
Despite representing only 7% of homeowner insurance claims nationally, Florida accounts for an astounding 79% of property insurance lawsuits. The situation is so dire that many large insurers are flat-out refusing to write new policies in the state. As a result, Florida's property insurance policy rates have increased by 50% over the past four years. They are expected to rise by another 40-50% this summer.
Is An End to Florida's Insurance Crisis on the Horizon?
To combat the crisis, Florida Governor Ron DeSantis has taken aggressive action by signing three insurance reform bills into law last year. These bills primarily aim to curb excess insurance litigation.
Although it's still early to determine the long-term impact of the legislation, executives at Universal Insurance Holdings are optimistic. CEO Stephen Donaghy told investors in a recent conference call:
"We're grateful to state officials for passing meaningful reforms at the recent special legislative session, including elimination of one-way attorney fees and assignment-of-benefits, shortening the claims filing deadline to one year and taking steps to reduce the competitiveness of Citizens, among other measures."
Is Universal Insurance Holdings Turning Around?
As Florida's largest property and casualty insurer, Universal Insurance Holdings' business comes down to pricing risks better than the industry and striking the right balance between competitive prices and profitable policies. This can be a game of feast or famine in a highly volatile insurance market like Florida.
And despite the last few years presenting challenges to UVE and the industry as a whole, the company continues to take in more premiums each year, even as it reduces the number of policies in force: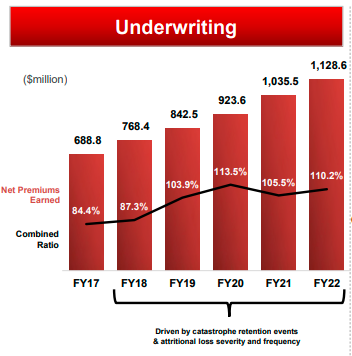 Source: FY22 Investor Briefing
However, UVE has faced considerable losses in recent years due to Florida's insurance market getting even more volatile than normal. The stock's book value dropped from a high of $15.13 per share in 2019 to $9.74 for the fiscal year of 2022. Even worse, the devastating impact of Hurricane Ian resulted in a massive $72 million loss for the company.
Signs of improvement are emerging, as UVE reported a net income of $25 million in Q4 2022, its best quarter since Q1 2021. And management is talking like the worst is in the rearview mirror, as Steven Donaghy said "It will take time for the reforms to benefit results, but we believe the legislature's actions will restore the health of the market over the long term." in a Q4 earnings conference call.
The stock market shares Donaghy's optimism. Following the release of UVE's Q4 report late last month, the stock surged by 53% in just a few weeks. Currently consolidating in a relatively tight range, the stock looks primed for a potential breakout above the $19.71 high. Keep a close eye as the situation continues to unfold.