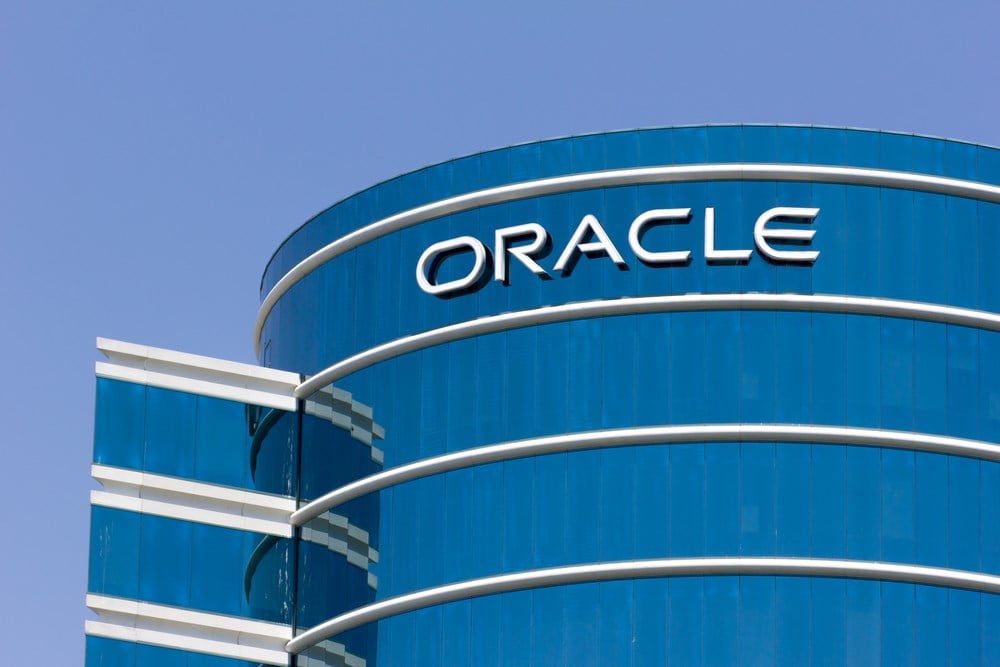 Shares of Oracle Corp. (NYSE: ORCL) are working on their third month in a row of upside trade, following a breakout from a cup-with-handle base on March 31.
The stock is currently in buy range as it's up only slightly from a recent buy point above $96.74, prior to a pullback with support along the 10-day and 21-day averages, which converged recently. You can see that pullback on the Oracle chart, using a daily view.
With a market capitalization of $262.45 billion, Oracle is by far the largest company in the computer software and database sub-industry. It's the tenth-largest company within the S&P 500 tech sector, as tracked by the Technology Select Sector SPDR Fund (NYSEARCA: XLK). 
Although Oracle focuses on cloud services and is getting involved with AI, it's one of those old-line tech companies that doesn't have the red-hot "buzz" factor of newer peers, such as Workday Inc. (NASDAQ: WDAY), Splunk Inc, (NASDAQ: SPLK) or MongoDB Inc. (NASDAQ: MDB). 
However, being a hip new tech startup doesn't matter as much as a company's return. In recent months, Oracle has been outperforming Splunk by a long shot, and outperforming Workday and MongoDB by smaller margins. 
Oracle, which went public back in the stone age of 1986, focuses on enterprise software to help businesses manage their operations and data. The company also has a relatively small hardware unit. Oracle's products include database management systems, cloud services, and other business applications. 
Oracle customers hail from essentially every industry, including finance, healthcare, retail, and technology.
Oracle's AI Strategy
Like every other tech, and really, every company these days, Oracle is making inroads with AI. 
In March, Oracle announced that it selected Nvidia Corp. (NASDAQ: NVDA)'s  BlueField-3 DPU as the latest addition to its networking stack, offering Oracle Cloud Infrastructure customers a new option for offloading data center tasks from CPUs. 
According to an Oracle executive quoted in the joint news release Oracle Cloud Infrastructure offers enterprise customers accessibility to AI and scientific computing infrastructure.
Oracle is divided into three business units: Cloud and license, hardware, and services, with each comprised of a single operating segment.
Oracle earnings of $1.22 a share in the most recent quarter beat views, although revenue fell short. It marked the first time since the quarter ended in November 2021 that earnings increased year-over-year. 
Cerner Acquisition Brought Growth
Revenue grew by 18% in each of the past three quarters. Previously, revenue has been increasing at single-digit rates. That increase coincides with Oracle's acquisition of healthcare technology specialist Cerner in June of 2022.
Cerner's customer roster who onboarded with Oracle includes the U.S. Department of Defense, the U.S. Department of Veterans Affairs; hospital groups in the U.S., the U.K., Canada, and the Middle East; and the Australian Defense Forces.
"While we are pleased with this early success of the Cerner business, we expect the signing of new healthcare contracts to accelerate over the next few quarters," said Oracle founder and chairman Larry Ellison, in the earnings release.  
Long List Of Competitors
That's great news for Oracle and its investors, but there are headwinds, primarily in the form of ever-growing competition. The software industry is inherently cutthroat, and the barriers to entry are getting lower. 
Oracle acknowledges that its rivals include "some of the largest and most competitive companies in the world." Those include Amazon.com, Inc. (NASDAQ: AMZN), Microsoft Corporation (NASDAQ: MSFT), International Business Machines Corporation (NYSE: IBM), Intel Corporation (NASDAQ: INTC), Cisco Systems, Inc. (NASDAQ: CSCO), Adobe Systems Incorporated (NASDAQ: ADBE), Alphabet Inc. (NASDAQ: GOOGL), Salesforce Inc. (NYSE: CRM), SAP SE (NYSE: SAP), HP Inc. (NASDAQ: HPQ), and Workday. 
That's a long list, and it shows: Oracle, despite being a best-in-class provider of on-premise database technologies, as evidenced by its customer list, risks being overlooked as other rivals promote cloud solutions. 
Acquiring Growth
It's telling that the largest recent revenue increases came from the Cerner acquisition, and growth through acquisition is certainly a valid way for a mature company to keep up the pace of earnings.
Acquisition is part of Oracle's operating strategy, and could provide a needed boost when it comes to growing cloud revenue.