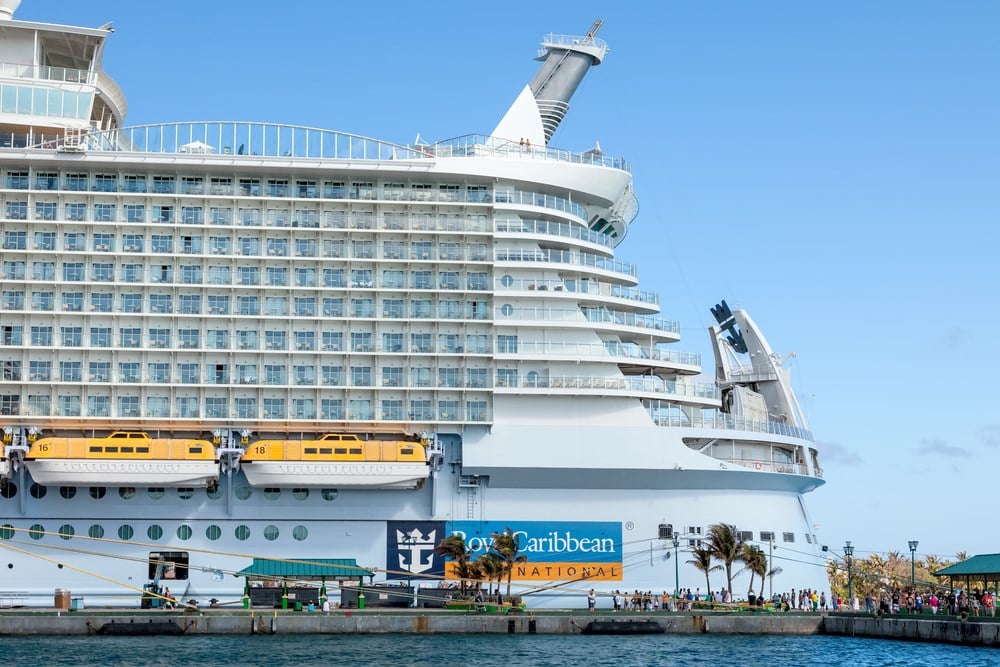 Like the rest of the cruise line industry, Royal Caribbean Group (NYSE: RCL) has experienced several high and low tides over the last few years.
The onset of the coronavirus pandemic sunk the stock to a 10-year low under $20. Optimism about a recovery brought the popular reopening play back to nearly $100. Then came fears of an economic slowdown and the resulting impact on vacation spending — and a return to the $30's.
It's been all upstream since.
Thanks to resilient demand for ocean getaways and a brighter long-term outlook, Royal Caribbean shares are up more than 150% from their July 14th, 2022 low. During the same period, the S&P 500 is up 11%.
Whether or not the impressive run is the calm before another crushing storm is difficult to say; if the global economy enters a recession as many economists predict, this would seem detrimental to cruise booking activity. Then again, persistent pent-up leisure demand has helped Royal Caribbean stem the tide of macro headwinds for nearly a year.
Earlier this month, the world's third-largest cruise line stunned Wall Street with better-than-expected first-quarter financials. Along with management's expectations for smoother sailing, the report offered clues pointing to Royal Caribbean finally reaching $100.
#1 - Fundamentals Are Improving
Royal Caribbean's Q1 cruise occupancy metrics were excellent. A consensus-beating 102% load factor confirms a demand recovery is well underway. Along with strong booking trends, this should lead to strong revenue results and the potential for more Street-topping quarters this year.
The good news for shareholders is that ticket sales are rebounding, and cruise-goers are spending more on Royal Caribbean, Celebrity, Silversea and Azamara ships. Last quarter, onboard revenue soared 143% and accounted for more than a third of total revenue. This shows that customers aren't skimping on in-person cruise purchases to offset rising ticket prices — an encouraging development in a weakened discretionary spending environment.
Following three years of net losses, the company is expected to return to profitability in 2023. Demand is a significant factor, but also about effective cost management. While Q1 revenues were up 173%, operating expenses increased a far more modest 52%. Cost-cutting initiatives and lower fuel prices could keep margins on the upswing.
Of course, like industry peers, Royal Caribbean's balance sheet has been hurt by capital-raising efforts to stay afloat. As a result, its 87% long-term debt-to-capitalization ratio remains high, but further debt reduction should come with continued cash flow improvement (and lower financing rates). 
#2 - The Stock Is Still Undervalued
Based on the consensus estimate for 2023 earnings per share (EPS), Royal Caribbean has a P/E ratio of 17x. This gives it the cheapest valuation in the cruise line space. Norwegian Cruise Line Holdings trades at 19x this year's earnings. Rival Carnival Corporation isn't expected to produce an annual profit until 2024. 
Royal Caribbean also looks undervalued from a PEG ratio standpoint (this is a measure of the company's P/E ratio relative to its anticipated growth rate). Based on the Street's 2024 numbers, its PEG ratio is a meager 0.25. To put this in perspective, of S&P 500 stocks with positive PEG ratios (approximately 450), only six are below 0.25. 
One of the company's most significant growth opportunities is the Asia-Pacific market. As China and other regional economies recover, its 64 ship fleet will likely see improved booking demand from local and international travelers. 
#3 - Dividend Reinstatement Would Be a Lift
Royal Caribbean suspended dividend payments during the early days of the pandemic. After reworking debt covenants with lenders, it announced that it was restricted from reinstating dividends (or buybacks) until after Q3 of 2022. 
Consistent with other cruise lines, the company has yet to reinstate its quarterly dividend. When it does, it may not be as much as before Covid ($0.78 per share) — but even a small dividend could help restore confidence and attract income investors.
The market has received recent dividend reinstatements and increases at airlines and hotels. For Royal Caribbean, bringing back the dividend could be the best thing since the return of the all-you-can-eat shrimp buffet.