Could Biden's Planned Tax Hike Rattle The Stock Market?
July 10, 2020 at 11:10 AM EDT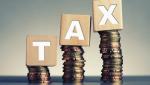 Despite the February collapse in the stock market this year amid the coronavirus pandemic, investors have enjoyed a continued rally over the past decade. But that all could be coming to an end soon according to the presidential nominee and former Vice President Joe Biden. Releasing his plans for an...