Can Growth Stocks Keep Climbing Amid the Current Rally?
September 02, 2020 at 14:02 PM EDT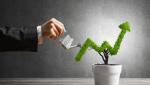 Growth-oriented equities, particularly in the technology sector, keep on thriving amid social distancing measures in place as a result of Covid-19. As more companies rely more heavily on technology, it makes sense that these growth stocks can keep climbing, or can they? Research company Bernstein...