Is Emerging Markets Outperformance Correlated to SOEs?
September 14, 2020 at 13:56 PM EDT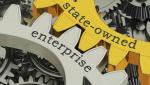 Emerging markets (EM) was already a slippery slope to climb, but with Covid-19, that slope gets even more slippery. However, recent data has shown that EM outperformance could be tied to avoiding state-owned enterprises (SOEs). Per a Financial Times article, "research has shown that passive...