Creative director and floral designer, Althea Wiles with Rose of Sharon Floral Design Studio, showcases breathtaking floral design artwork for the recurring event at Crystal Bridges Museum of American Art touted Art in Bloom.
Bentonville, Arkansas, United States - May 31, 2023 —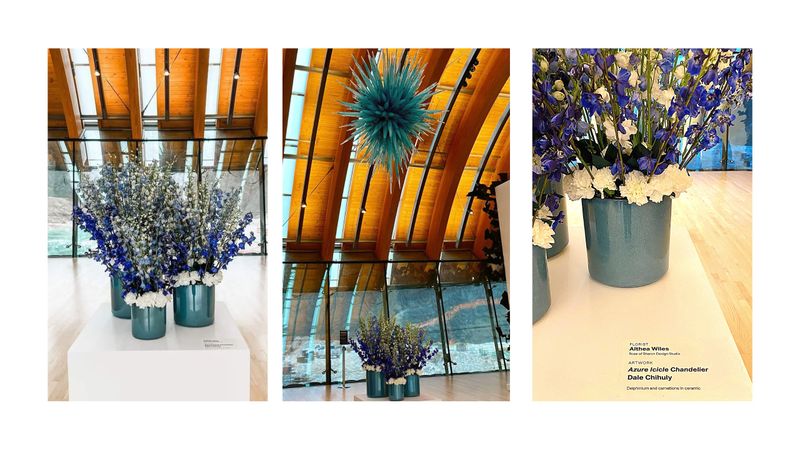 Althea Wiles, florist educator for J Althea Creative Consulting and the creative director for Rose of Sharon Floral Design Studio, recently exhibited a floral design arrangement for the Art in Bloom spring 2023 showcase at Crystal Bridges Museum of American Art. Floral designers are chosen regionally and those accepted into the show are asked to create a custom floral design arrangement for the exhibit inspired by a piece of art displayed in the museum. These floral design arrangements are then put on display for a period of time next to the piece of art that was used as inspiration. Guests then have the opportunity to walk through the galleries to view the showcase and witness the time of year when the museum's surrounding natural environment is in bloom. 


Althea Wiles' art piece for Art in Bloom 2023 consisted of three bouquets made up of blue and white delphinium flowers and white carnations in blue, glazed ceramic pots and placed under her inspiration piece. The art piece that inspired Althea Wiles' blue floral design arrangement is titled Azure Icicle Chandelier by Dale Chihuly. The icy blue crystal chandelier was created for the Modern Art Gallery at Crystal Bridges to reflect the water, light and glass on each side of the artwork. Created through glass blowing, each spike, or icicle, was individually made and then glass blown together to create the beautiful chandelier. 

Althea Wiles has participated in the Art in Bloom exhibit four times: spring 2019, fall 2021, spring 2022 and spring 2023.  Each show is unique and based on the particular art pieces used as inspiration. For example, in last year's showcase Althea's floral artwork was inspired by Karen LaMonte's Dress Impression with Wrinkled Cowl, a white cast glass crystal medium whereby the accompanying floral arrangement consisted of phalaenopsis orchids and plumosa fern. The floral design arrangement reflected the delicate look while also remaining sturdy, similar to properties of the inspiration piece. Her floral design arrangement for 2023 had reflections of her inspiration as well - the blue and white colors in the glazed ceramic blue pot gave the same icy and shiny properties of Chihuly's Azure Icicle Chandelier.

"The pieces by Dale Chihuly have always impressed me and the Azure Icicle Chandelier is stunning. I'm drawn to deceptively simple artwork and the Chihuly Chandelier is a perfect example of this. It's a piece you can get lost in.

The elements that really spoke to me were the monochromatic color scheme, the icicle shape of the glass pieces and the grand size of the piece. I immediately thought of spiky blue delphinium when I began working on this piece. Delphinium is one of the few naturally blue flowers, so it was a perfect fit. Because the Chihuly piece is so large, I wanted to do a larger floral piece, as well. While the floral piece looks small next to the chandelier, it actually has over 150 stems of delphinium in addition to the other materials used. To reflect the depth of color in the chandelier, I used a mix of white, light blue and royal blue delphinium.

Art in Bloom is one of my favorite projects to work on. The challenge of creating a reflective floral piece is something you don't get to do very often in commercial floral design. It's an opportunity to express my creativity rather than fulfilling a client request," says Althea Wiles.

About Althea Wiles: Althea Wiles is the owner and creative director of Rose of Sharon Floral Design Studio in the Ozark Mountains region of the United States. She is also the founder and education director of J Althea Creative, a florist education consulting program. Wiles earned her Bachelor of Arts degree from Hendrix College and then completed her Arkansas Master Florist Certification. After 25 years in business, her design studio takes part in 75-100 weddings and events annually. Recognized by local and national publications, she has been featured on The Knot, The List, amongst others, and in a wide range of magazines. Wiles continues gaining recognition by participating as a regularly featured artist for the Art in Bloom gallery exhibits chosen and hosted by the Crystal Bridges Museum of American Art. Wiles is also a recurring instructor in the horticulture department at the University of Arkansas at Fayetteville.
About Us: Althea Wiles is a floral designer and florist educator - she is the owner of Rose of Sharon Floral Design Studio and J Althea Creative based in the Ozark Mountains region of the United States.
Contact Info:
Name: Althea Wiles
Email: Send Email
Organization: Althea Wiles
Website: https://www.roseofsharon-eventflorist.com/

Video URL: https://youtu.be/n_rgjzkL840
Release ID: 89098871
If you detect any issues, problems, or errors in this press release content, kindly contact error@releasecontact.com to notify us. We will respond and rectify the situation in the next 8 hours.