Achieving partnership and data-driven capabilities: Soarits PR and Niro IMS Solution join forces to enhance collaboration, providing data analytics and personalized brand experiences.
Malaysia - May 31, 2023 —
On May 18th, during the 30th Franchise International Malaysia 2023 event held at Kuala Lumpur Convention Centre, Soarits PR and Niro IMS Solution signed a memorandum of understanding to further strengthen their collaboration and lay an important foundation for the system upgrade of their respective businesses. The collaboration aims to strengthen brand positioning and competitiveness, while offering precise marketing strategies and expanding cross-border opportunities.
According to the cooperation agreement, Niro IMS Solution will provide Soarits PR with additional technical support. This technical support includes offering visual data analytic services to clients, helping them understand critical metrics such as engagement rates and advertising asset rates, as well as the latest market trends and most effective advertising models.
Through intuitive data visualization, Niro IMS Solution will present the results of data analysis in diagrams to ease clients in evaluating the value of their brands. The data can be utilized in annual financial reports and is applicable to companies preparing for listing or financing. This will aid clients in formulating appropriate strategies and actions, further solidifying their brands.
Enhancing data-driven capabilities and personalising the brand experience
Isabella Dai, the founder of Soarits PR, is very positive about the collaboration with Niro IMS Solution. She emphasizes the significant changes in media and communication in the digital age, requiring more precise marketing strategies and personalized branding to attract target audiences. Therefore, Soarits PR has partnered with Niro IMS Solution to combine its abundant media resources with Niro IMS Solution's expertise in data analytics to enhance data-driven capabilities.
"Our goal is to provide clients with more precise marketing strategies and personalized brand experiences, offering targeted solutions based on data. This partnership not only strengthens our brand positioning in the market but also ensures our competitiveness in the digital era."
She also adds that in addition to the aforementioned services, Soarits PR also focuses on localization and replicating successful marketing strategies in Malaysia.
"We adapt our marketing strategies based on the local market and cultural differences. One of our approaches is introducing the live-streaming marketing model from China into Malaysia, utilizing this innovative method to showcase our clients' products or services".
She says, "We recognize the influence of key opinion leaders (KOLs) who have a large following and fan base. We leverage their influence to enhance brand awareness. By collaborating with KOLs who align with our clients' brand values and utilizing their expertise in the online realm, we are able to effectively reach out to the target audience and provide cross-border opportunities for our clients, enabling them to expand their business globally".
She cites the example of their subsidiary, unitestar.media, which aims to be a one-stop media buying agency, enabling clients to directly choose suitable media platforms or resources and precisely target their audience.
Emphasis on the introduction of data-driven solutions and cases
Marzuki, the founder of Niro IMS Solution, is also excited about the partnership with Soarits PR. He highlights that Soarits PR is a media influence platform with a global reach of 100,000 media resources, including 50,000 soft media, 20,000 influencers from around the world, 5,000 celebrities, and various other news media outlets. On the other hand, Niro IMS Solution focuses on providing data-driven solutions for clients.
"For years, the Niro IMS team has been committed to offering powerful data analytic and reporting capabilities to assist franchise businesses in understanding their operations and making informed decisions. By conducting a detailed analysis of data and key metrics, companies can uncover potential business opportunities and improve their marketing strategies. Moreover, the generated reports not only present data in a clear manner but also provide guidance to facilitate effective business analysis and evaluation."
"Through our collaboration, we will make reference from the case studies from China, Hong Kong, and Taiwan to develop successful business transformation solutions and provide reliable data support, thereby creating value for Malaysian franchise businesses."
According to the agreement, both parties will commence their collaboration this year. This partnership will facilitate resource sharing, technology exchange, and market expansion, creating more opportunities for business growth.
Seminar to explore the importance of data and valuation awareness
The 30th Franchise International Malaysia 2023 also featured an insightful seminar on data and valuation awareness. Professional speakers from various organizations shared their experiences and insights in the field of data analysis, discussing the significance of data in the modern business environment and its application.
The seminar introduced best practices in data analysis to the attendees, delving into the key role of data in decision-making and business development. Through case studies and real-life experiences, the participants gained an understanding of how to extract valuable insights from vast amounts of data to support strategic decision-making and business growth. This enhanced their understanding and application of data-driven decision-making.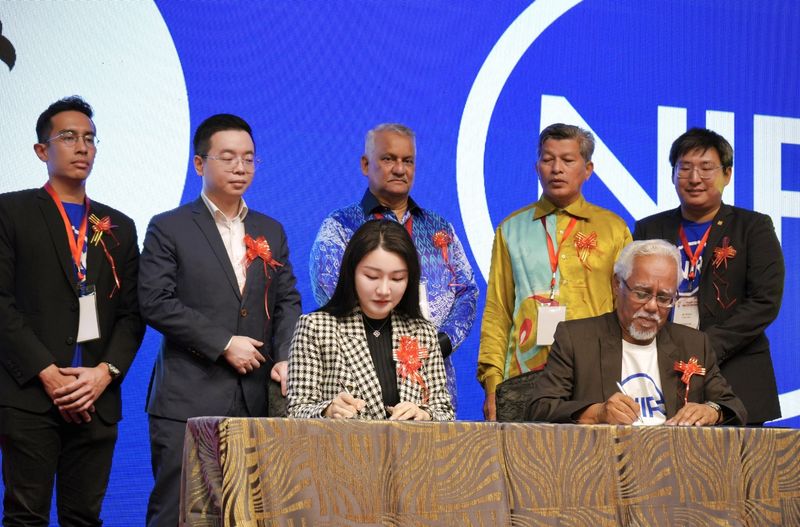 Isabella Dai, the founder of Soarist PR, signed a memorandum of cooperation with Marzuki, the founder of Niro

Contact Info:
Name: David Wang
Email: Send Email
Organization: Manprpower Ltd
Website: http://www.manprpower.com

Release ID: 89098701
If you detect any issues, problems, or errors in this press release content, kindly contact error@releasecontact.com to notify us. We will respond and rectify the situation in the next 8 hours.