However, Kraft paper is high demand in the world. Used in sectors ranging from cosmetics to food and beverages, its market value is already at $17 billion and is projected to continue growing.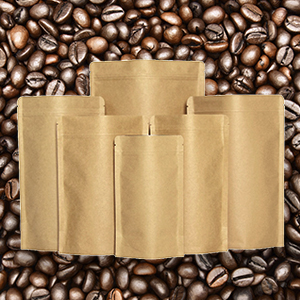 During the pandemic, the price of kraft paper shot up quick, as brands increasingly bought it to package their goods and send them out to customers. At one point, prices increased by at least £40 per tonne for both kraft and recycled liners.
Not only were brands attracted by the protection it offers during transport and storage, they also saw its recyclability as a good way of demonstrating their commitment to the environment.
The coffee industry has been no different, with kraft paper packaging becoming an ever more common sight.
When treated, it offers high barrier properties against coffee's traditional enemies (oxygen, light, moisture, and heat), while providing a lightweight, sustainable, and cost-effective solution for both retail and ecommerce.
What is kraft paper & how is it made?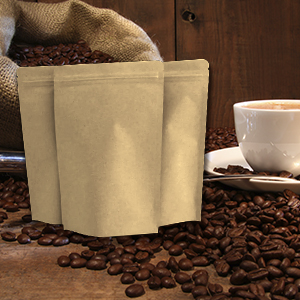 The word "kraft" comes from the German word for "strength". It describes the paper's durability, elasticity, and resistance to tearing — all of which make it the one of the strongest paper packaging materials on the market.
Kraft paper is biodegradable, compostable, and recyclable. It's usually made from wood pulp, often from pine and bamboo trees. The pulp can come from underdeveloped trees or from the shavings, strips, and edgings discarded by sawmills.
This material is mechanically pulped or processed in acid sulfite to produce unbleached kraft paper. This process uses fewer chemicals than conventional paper production and is less harmful to the environment.
The production process has also become more environmentally friendly over time, and by now, its water consumption per ton of products manufactured has been reduced by 82%.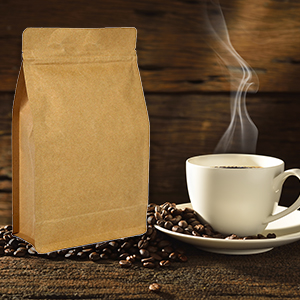 Kraft paper can be recycled up to seven times before becoming totally degraded. If it's contaminated by oil, dirt, or ink, if it's bleached, or if it's covered with a plastic layer, it will no longer be biodegradable. However, it will still be recyclable after it's been chemically treated.
Once treated, it's compatible with a range of high-quality printing methods. This offers brands a good opportunity to display their designs in vibrant colours, while maintaining the authentic, "natural" aesthetic provided by paper-based packaging.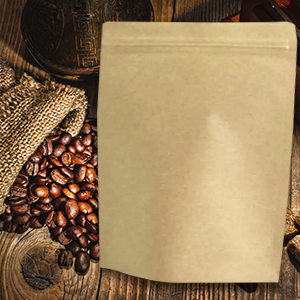 What makes kraft paper so popular for coffee packaging?
Kraft paper is one the primary materials used in the coffee sector. It's used for everything from pouches to takeaway cups to subscription boxes. Here are just a few factors driving its popularity among specialty coffee roasters.
It's becoming more affordable
According to the SPC, sustainable packaging should meet the market criteria for performance and cost. While specific examples will differ, the average paper bag costs significantly more to produce than the equivalent plastic bag.
At the outset it might seem like plastic is more affordable — but this will soon change.
Many countries are implementing taxes on plastics, driving demand down and driving prices up at the same time. In Ireland, for example, a plastic bag levy was introduced, reducing the use of plastic bags by 90%. Many countries have also banned single use plastics, with South Australia issuing fines to businesses that are found distributing them.
While you might still be able to use plastic packaging in your current location, it's obvious that it's no longer the most affordable option.
If you plan on phasing out your current packaging for a more sustainable packaging, be open and honest about it. Ruby Coffee Roasters in Nelsonville, Wisconsin, USA has committed to pursuing packaging options with the lowest environmental impact possible.
They plan on integrating 100% compostable packaging across their product range. They also encourage customers to contact them directly if they have any questions about this initiative.
Customers prefer it

The SPC also says that sustainable packaging must be beneficial for individuals and communities throughout its life cycle.
Research shows that customers strongly prefer paper packaging over plastic and would choose an online retailer offering paper over one that doesn't. This suggests that customers are likely aware of how their use of packaging impacts the environment.
Because of the nature of kraft paper, it's more likely to satisfy customer concerns and encourage them to recycle. In fact, customers are more likely to recycle a material when they know for sure that it will be transformed into something new, as is the case with kraft paper.
When kraft paper packaging is completely compostable at home, it further engages customers in the recycling process. practically demonstrating how natural the material is throughout its life cycle.
It's also important to communicate how your packaging should be handled by customers. For example, Pilot Coffee Roasters in Toronto, Ontario, Canada informs its customers that the packaging will break down by 60% in 12 weeks in a home compost bin.
It's better for the environment
A common issue faced by the packaging industry is getting people to recycle it. After all, there's no point in investing in sustainable packaging if it isn't going to be reused. Kraft paper is able to meet the SPC's criteria in this regard.
Of all the different types of packaging materials, fibre based packaging (like kraft paper) is most likely to be recycled kerbside. In Europe alone, the paper recycling rate is more than 70%, simply because consumers know how to dispose of it and recycle it correctly.
Yallah Coffee Roasters in the UK uses paper based packaging, as it can be easily recycled in most UK homes. The company points out that, unlike other options, paper won't need to be recycled at specific points, which often puts people off recycling altogether.
It also chose paper knowing that it would be easy for customers to recycle it, and that the UK has the infrastructure to ensure that the packaging will be properly collected, sorted, and recycled.
Media Contact
Company Name: Shenzhen Chuangxin Packing Material Technology Co.,Ltd
Email: Send Email
Country: China
Website: https://www.create-trust.com/