There are a variety of sports cameras with different prices in the market, some of which are more expensive, such as DJI, Insta, and Gopro brands of sports cameras are about 400 US dollars. While other lesser-known non-brand sports cameras The price of the camera is very variable: from $50 to $200. As for whether it is a good-quality sports camera, consumers still need to distinguish it by themselves. Sometimes, a brand-name sports camera is not suitable for everybody, and someone have to choose according to everyone own situation.
Branded Action Cameras: Guaranteed Quality and Reliability
Branded action cameras have gained a reputation for their relatively guaranteed quality and vigorous promotion. Well-known brands have strict control over the quality of their products and have strong R&D capabilities. Brand sports cameras are usually rich in functions and innovative. It enables users to capture amazing shots in a variety of ways and immersive perspectives. Additionally, well-known brands often provide regular firmware updates and technical support, ensuring customers have a smooth user experience and access to the latest improvements.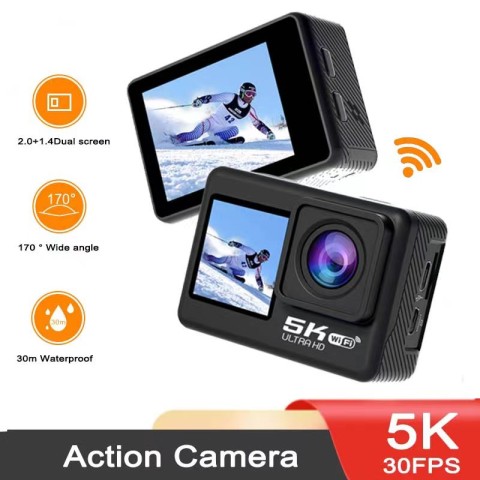 Some key advantages of branded action cameras:
Reliability and Durability: Branded cameras are made with high-quality materials, which ensures that they can withstand harsh environments and harsh weather conditions. They are rigorously tested to meet exacting standards, guaranteeing their reliability and durability during people adventures.
Superior image and video quality: Brand-name cameras have advanced image sensors, lens technology, and image stabilization to produce sharper images and smoother video clips. The enhanced dynamic range and color accuracy offered by the branded cameras provides a more immersive viewing experience.
Diversified functions: Branded cameras have a variety of functions. In addition to basic functions: waterproof, 4k or 5k high-definition pixels (action camera 4k/5k action camera), time-lapse shooting, etc., they also have special functions such as Wifi connection and video editing. They also offer a variety of shooting modes, exposure settings, and customization options, enabling users to efficiently capture their vision.
Benefits of off-brand action cameras
Off-brand action cameras, gaining popularity due to their affordability and competitive features. While they may not be as prestigious as brand name cameras, they have unique advantages worth considering:
Cost-effective: Off-brand cameras are much cheaper than brand-name cameras. They provide a cost-effective entry point for individuals who want to try action photography or are on a budget.
Diversity and customization: Off-brand cameras come in a variety of models, offering a variety of features and specifications to meet the preferences of different users. This wide selection allows users to choose a camera that meets their specific requirements and desired features.
Accessibility and user-friendliness: General-purpose action cameras often prioritize simplicity, making them accessible to those new to action photography. Featuring a simple interface and basic controls, these cameras are easy to use, allowing users to focus on capturing the moment rather than being overwhelmed by complex technology. Of course, some sports cameras with better quality also support customization options.
Surprising performance: 
While off-brand cameras may not have the same level of image quality or advanced features as branded cameras, they focus on getting the basics functions, with anti-shake and waterproof features (waterproof camera), 4k-5k pixels, Common shooting modes, and mobile phone connections are supported. Many non-brand cameras can take good photos and videos. Some advanced features may not be available, but they can basically meet practical needs.
Branded and non-branded action cameras 4K may not both be perfect for everybody, and the choice between the two ultimately depends on people specific requirements, budget, and level of commitment to action photography. The brand's cameras offer exceptional quality, reliability, and the support of a wide range of features, making them ideal for enthusiasts and professionals who demand the best performance. Off-brand cameras, on the other hand, offer an affordable entry point into action photography and may be adequate for the casual user or those on a budget.
Media Contact
Company Name: Shenzhen Teskip Technology Co., Ltd.
Email: Send Email
Address:1503 Rongchao Xincheng Building, Dayun Rd, Longcheng Street,Longgang District
City: Shenzhen
State: Guangdong
Country: China
Website: https://teskip.com/