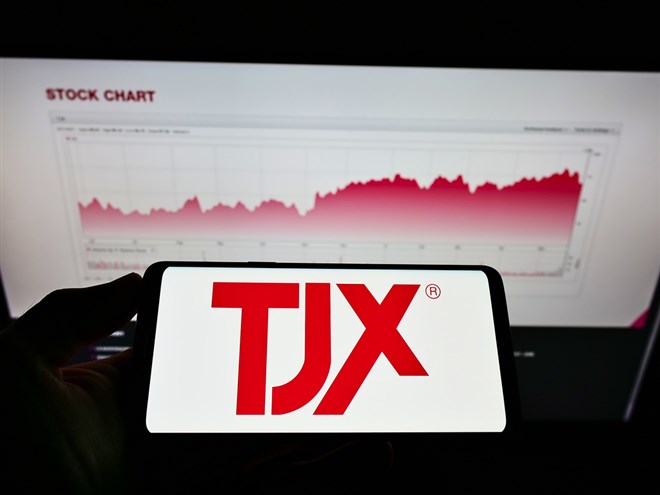 S&P 500 component The TJX Companies, Inc. (NYSE: TJX) is still in the buy range after reversing lower along with the broader market in Monday's session. 
Shares closed Monday at $81.51, down $1.21, or 1.46%. The trading volume was heavier than normal. 
To clarify: A buy range means a stock's technicals indicate that it successfully cleared an area of price consolidation. For clothing and accessories retailer TJX, that upside price movement happened on Friday, when the stock gapped up at the open and finished 2.57% higher. 
With Friday's price action, TJX cleared a buy point north of $81.17, the high of a cup-shaped pattern that began forming in late November. That base was shallow, correcting just 5%. In fact, on a weekly chart, it appears more like a flat base than a cup. The stock pulled back to find support along its 50-day moving average.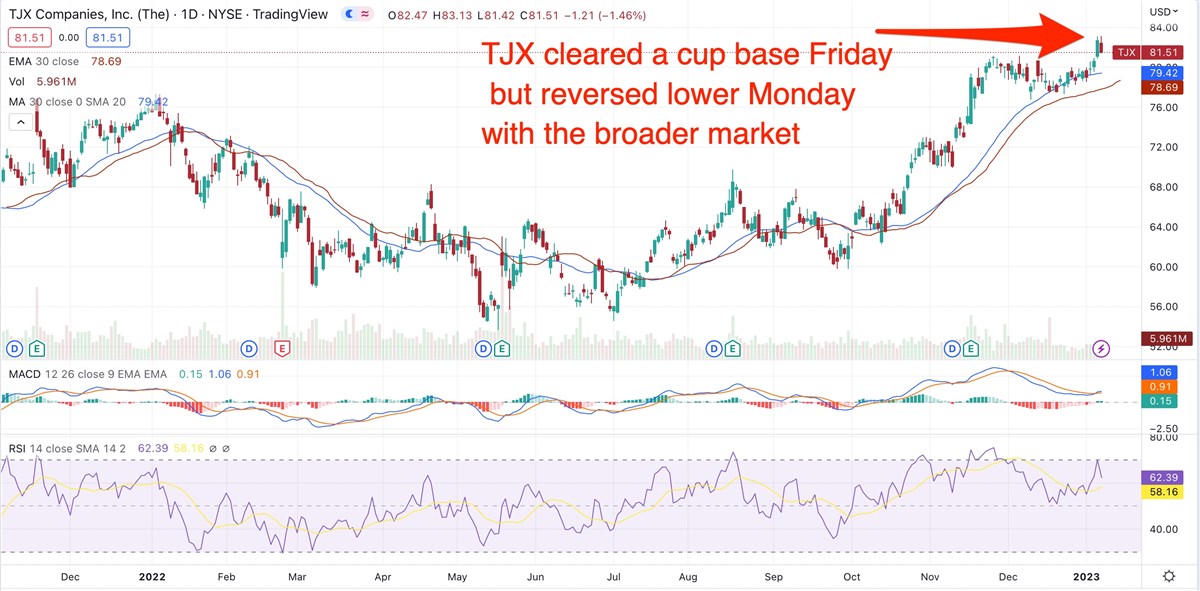 Taking Profits After A Run-up
That 50-day support signifies that institutional investors were likely taking some profits following a previous run-up. If the stock had sliced through that line, it would have been an indication that investors had lost conviction in the stock, and that doesn't seem to be the case. 
Both Friday's and Monday's price action mirrored the broader market.
TJX is part of the consumer discretionary sector, which analysts have pegged as likely to show big earnings gains this year. With a market capitalization of $94.19 billion, it comprises 3.09% of that sector within the S&P 500.
Like many of the biggest S&P companies, this one is familiar to most investors and consumers. Its lines of business include T.J. Maxx, Marshalls, and HomeGoods stores, among other brands. It operates more than 4,700 apparel and home goods stores in the U.S., Canada, Europe, and Australia.
The stock languished through most of 2022, but double-digit percentage gains in October and November helped lift it to a one-year return of 11.12%. The pandemic era of doing business wasn't easy on this company, as a look at MarketBeat earnings data for the company illustrates.
Lower Foot Traffic, Higher Freight Costs
TJX missed earnings views in the quarter that ended in February of last year and missed revenue views in each of the past four quarters. Not only did a resurgence in Covid cases last winter result in lower store foot traffic, but the bottom line was hit by higher freight costs, a problem faced by businesses in many industries. 
Nonetheless, analyst data compiled by MarketBeat show a "moderate-buy" rating on the stock, with a price target of $82.67. That's a potential upside of just 1.42%, meaning analysts either aren't convinced there's much room to run from here or they expect another pullback before the stock resumes its uptrend. Either way, other stocks may have more near-term potential for larger gains. 
Keep in mind: A gain of 1.42% would put the stock at $82.66, below its high price Monday. 
The company's recent price performance ranks it among the better price performers within the apparel sub-industry of the consumer discretionary sector. Rival Ross Stores Inc. (NASDAQ: ROST), whose stores are sometimes right next to TJX stores in suburban shopping areas, has outpaced TJX recently, but not by much. 
Weathering Higher Inflation?
Ross has advanced 38.12% in the past three months, while TJX trended 27.54% higher. 
As discount retailers, the current higher inflation environment could help Ross and TJX navigate the next set of challenges as supply-chain problems ease. 
TJX reports its 2023 fiscal fourth quarter on February 15 before the opening bell. Wall Street is eyeing earnings of $0.89 per share on revenue of $14.25 billion. Both would be increases over the year-earlier quarter.
TJX is expected to earn $3.12 a share for the full fiscal year, a 9% gain over fiscal 2022. That's expected to increase by 14% to $3.55 per share for fiscal 2024. 
While there are quite a few positives about this stock, analysts seem to think there's not much upside in the next 12 to 18 months, although an annual dividend yield of 1.45% may help the stock hold up better than others if the market goes into another decline.