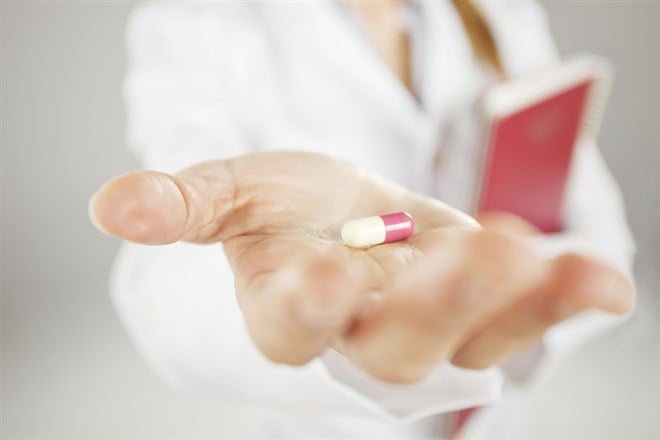 Baudax Bio (NASDAQ: BXRX) shares spiked as much as 70% on its announcement of positive interim phase 2 clinical trials for its pain medicine BX1000. While the interim positive outcome is based on a 20-patient group, it expects to complete the phase 2 trial with 80 patients by the end of the first quarter of 2023.
The dramatic spike in the stock resulted from the massive volume, which surged to over 45 million shares on the announcement on Jan. 24, 2023. The average daily trading volume is usually around 242,000 shares. The stock has a 52-week high of $306.46 and a low of $1.55. This stock is a high-risk and highly volatile speculation play for anyone considering it.
What Do They Do?
Baudax Bio is a Pennsylvania-based developmental-stage biotechnology firm with approximately 80 employees. The Company did just over $1.3 million in revenues with over ($22,500,000) in net losses.
The Company has a single FDA-approved medicine Anjeso, which it discontinued at the end of 2022. It has multiple neuromuscular blocking agents (NMBA) in various stages of clinical studies.
Some of the larger pharmaceutical companies that make NMBA include AbbVie Inc. (NYSE: ABBV), Pfizer (NYSE: PFE), Allergan PLC (NYSE: AGN), and Merck & Co. Inc (NYSE: MRK). These are all potential suitors or partners if the BX clinical trials are positive.
Troubled History of Commercialization
Baudax has yet to be very successful in commercializing its products. In an SEC filing on Dec. 30, 2022, the Company terminated its sales personnel for Anjeso, its first commercial product for pain. The FDA approved Anjeso (Meloxicam) on Feb. 20, 2020, for injection to manage severe pain alone or in conjunction with other non-NSAID analgesics.
The Company said that although it has discontinued producing the drug, it will continue to evaluate alternative ways to monetize Anjeso both in the U.S. and internationally.
They also mentioned they've started enrolling patients in the phase 2 trial of BX1000, an intermediate NMBA for pain. The clinical trial involves patients undergoing abdominal surgical conditions. The Company expects to complete enrollment in the study by the end of Q1 2023, which an interim analyst before that. 
Positive Interim Phase 2 Trial Outcomes for BX1000
Fast forward to Jan. 24, 2023, Baudax posted a positive outcome in its phase 2 trial of BX1000. The interim analysis focused on assessing the intubating conditions of 20 patients after using BX1000. It noted that all patients had good or excellent intubating conditions at 60 seconds with no severe or adverse side effects, and the drug was well tolerated.
The full study intends to evaluate NMB in 80 adults undergoing elective surgery using total intravenous anesthesia.
CEO Comments
Baudax Bio CEO Gerri Harwood commented, "We are encouraged by the results of the first interim analysis of the BX1000 Phase II surgery trial. We believe the use of BX1000, combined with our reversal agent, BX3000, could make for precise control of timing under neuromuscular paralysis for surgical patients, which could result in time and cost savings for patients and hospitals alike. We look forward to completing enrollment in the study in Q1 and sharing the topline results for the study in April 2023. The Company will continue its study through completion with topline results due out in April."
BX2000 and BX3000
Its BX- series of non-opioid medicines are designed to treat pain during elective surgeries. It also has intranasal Dex-IN (Dexmedetomidine) currently in phase 2 active clinical trials for peri-procedural and cancer breakthrough pain. They are scheduled to report fiscal Q4 2023 earnings in May 2023.
The Company also has BX2000, an ultra-short-acting NMBS, in a dose escalation study with healthy volunteers, which it expects to complete in 2023. Its BX3000 is currently in pre-clinical studies. If the studies are positive, there is speculation that the Company may be acquired by a more significant pharmaceutical player or sign a licensing agreement.
Based on its history, the Company isn't able to commercialize its medicine on its own. The ultra-thin float has made it a super volatile stock only suitable for the most risk-averse speculators looking for a lotto ticket-like speculation.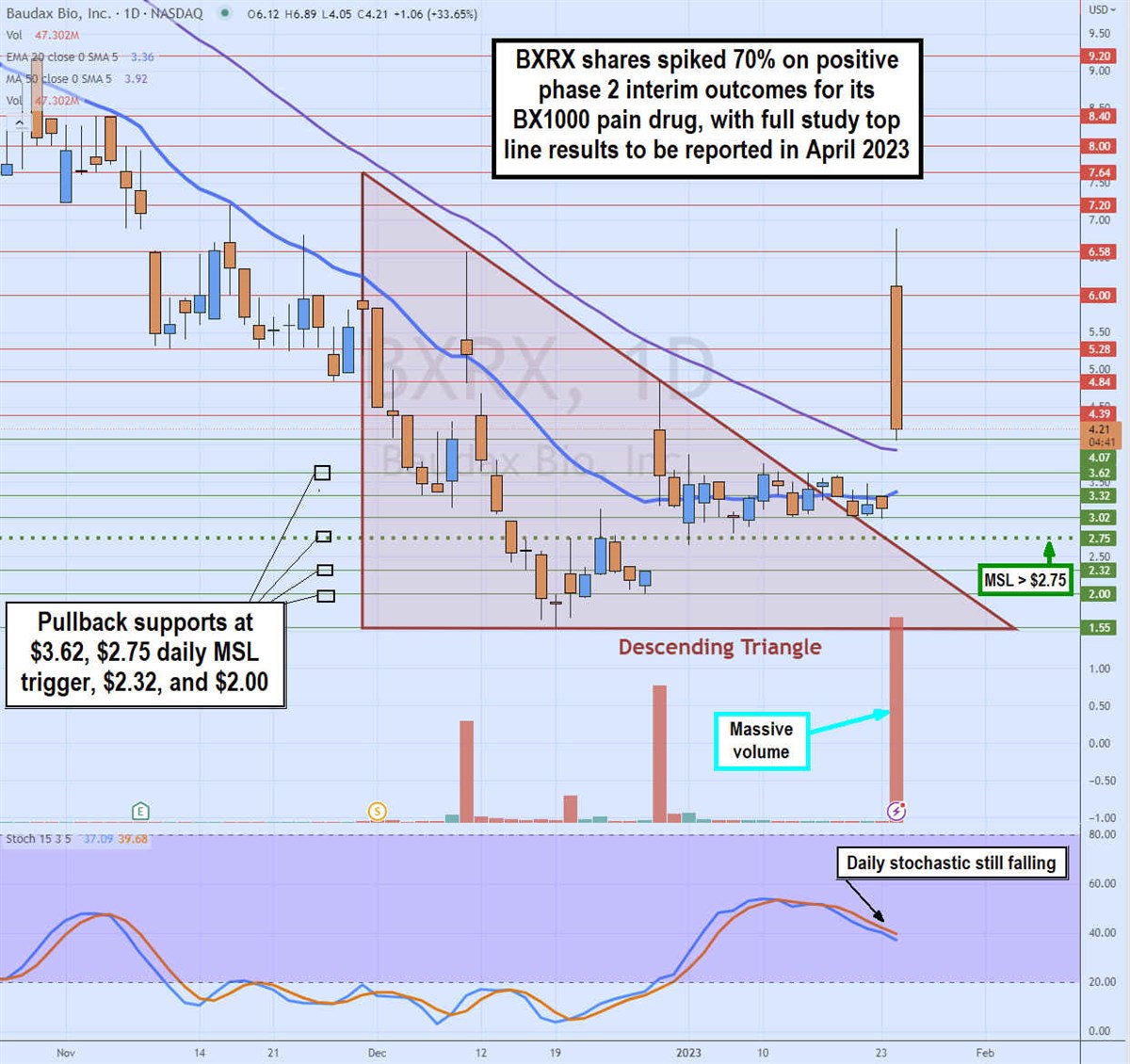 Daily Descending Triangle Breakout
BXRX shares have been in a bearish daily descending triangle that started in December 2022 as shares fell from a high of $7.64 on Nov. 30, 2022, to hit a low of $1.55 on Dec. 19, 2022, just before the filing with the SEC regarding its discontinuance of Anjeso drug. Shares coiled on the daily stochastic to peak at $4.84 after trigging the daily market structure low (MSL) buy signal on the breakout through $2.75.
The daily 20-period exponential moving average (EMA) is flat but turning at $3.35 as the daily 50-period MA sits at $3.92. Shares started to flatline but held above the descending triangle downtrend line at $3.30 before the phase 2 news spiking it up to a high of $6.89 before pulling back. Pullback support levels sit at