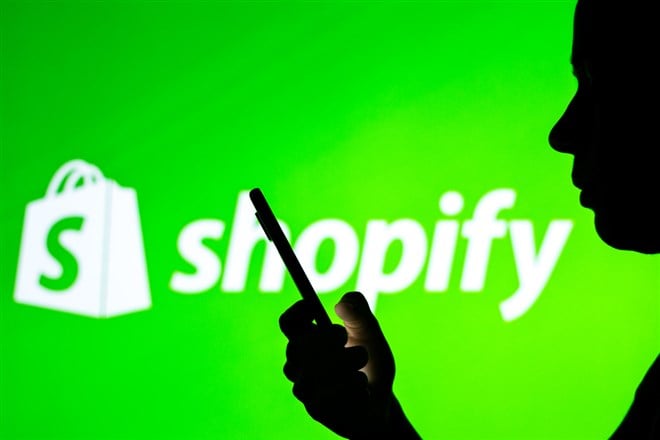 E-commerce platform Shopify Inc. (NYSE: SHOP) cleared a cup-with-handle base on January 24, with a buy point above $45.16. 
The surge followed a Shopify blog post after the market close on January 23, announcing price increases. 
The stock is up 36.36% in January, with a one-week gain of 20.83%.
Shopify operates an e-commerce platform for small businesses, allowing them to sell products and services. The company was founded in 2006 and went public in 2015. It had a meteoric rise until November 2021, right around the time that the entire tech sector went into a decline. 
However, Shopify has rebounded far better than the broad sector. The Technology Select Sector SPDR Fund (NYSEARCA: XLK), which tracks domestic large-cap tech, returned 4.60% in the past three months; Shopify returned 58.67% during that time. 
With a market capitalization of $60.50 billion, Shopify would easily be listed in the S&P 500 if it were a U.S. company, instead of Canadian. It's among the largest publicly traded companies in its home country.
Analysts See Revenue Increase In The Fourth Quarter
The company is due to report its fourth quarter on February 15 ahead of the opening bell. Wall Street is eyeing a loss of a penny a share on revenue of $1.64 billion. While that would be a bottom-line decrease from a year ago, it would be a top-line gain. 
MarketBeat earnings data for Shopify show a checkered history, when it comes to meeting, beating, or missing views. 
In its most recent quarter, reported in late October, the company had a loss of $0.02 per share on revenue of $1.366 billion. That was a year-over-year decline on the bottom line, from earnings of $0.08 per share previously. On the top line, that marked a gain of 22%. 
Its margins took a hit from the integration of Deliverr, a logistics and order fulfillment specialist. Because a service like Deliverr includes physical operations, rather than a focus on software, profit margins are typically lower, and that's the case here. 
Analysts have a hold rating on Shopify, with a price target of $56.08, representing a potential upside of 17.80%. MarketBeat analyst data show three analysts either boosted their price targets or upgraded their rating since the start of the year. Meanwhile, one downgraded the stock to hold from buy and another initiated coverage with a neutral rating.
The company raked in profits in 2020, reporting an earnings increase of $1,233%. It notched another gain of 60% in 2021. Clearly, those gains reflected the pandemic-era boom times when consumers increased their ordering from home, and people started new at-home e-commerce businesses.
Given Losses, Is Rally Sustainable?
But given the expected loss of $0.04 a share for 2022, are the good times over? Or can Shopify sustain its current rally behind strong sales and earnings growth? 
In October, after the most recent quarterly report, Morningstar analyst Dan Romanoff wrote, "We believe the company has established a narrow moat, as switching critical e-commerce platforms has financial and operational costs for an already resource-constrained [small and mid-sized businesses]. We forecast robust top-line growth benefiting from e-commerce trends over the next several years."
Switching costs are an issue that often helps software businesses like Shopify retain customers. But the broader picture of e-commerce is where the company may be able to drive further growth.
More Growth Through Acquisition?
There are also signs Shopify may want to grow more through acquisition. It holds stakes in Affirm Holdings, Inc. (NASDAQ: AFRM) and Global-E Online Ltd. (NASDAQ: GLBE). 
Affirm operates point-of-sale payment solutions for consumers and merchants. It specializes in the "buy now, pay later" model that's become a popular alternative to credit cards. 
Global-E Online offers a platform to enable and accelerate direct-to-consumer cross-border e-commerce. 
It's not a stretch to see how either of those companies could be attractive acquisition targets for Shopify. 
Despite the current hit to earnings, investors are optimistic about the stock and applaud the move to increase prices. While a price increase may always cause some customers to decamp, the hassle of switching providers will likely mean many remain, especially those who have been happy with the service thus far.