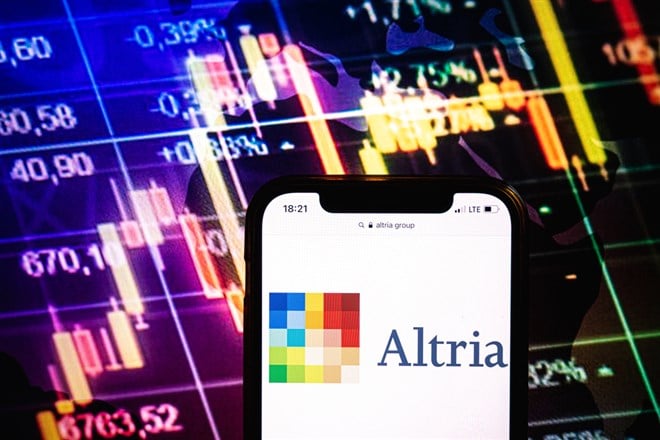 On a day when it's important for companies to beat on earnings, Altria Group, Inc. (NYSE: MO) delivered. The company reported better-than-expected earnings per share (EPS) of $1.18, which was two cents higher than consensus estimates of $1.16.  
But the real reason that MO stock is up over 5% in mid-morning trading is the company's announcement of a $1 billion share buyback program. By many metrics, Altria stock was undervalued heading into earnings. That means a share buyback program can have two noticeable benefits.  
First, it will increase the company's earnings per share. A company's outstanding shares is the denominator in the earnings per share calculation. It can also reduce the pressure on a company's dividend payouts.  
That bodes well for Altria because the dividend is the most compelling reason to own the stock. It currently has a dividend yield of 7.96% and pays out $3.76 per share annually. Altria also has a 13-year track record of increasing its dividend.  
For investors looking for areas to wait out a recession, dividend stocks are a compelling option. But there's something inside the numbers that suggests investors should proceed with caution regarding MO stock.  
Pricing Power is an "Or" Not an "And"  
As noted above, Altria beat on the bottom line. But the top line was a different story. On the surface, it doesn't look too bad. Revenue came in at $5.08 billion, just shy of the $5.14 billion expected. 
However, it's always important to look at the management's commentary to understand why. In this case, management is saying that the revenue reflects higher prices that helped offset declining volume. 
The idea that Altria would have pricing power is not surprising. The tobacco company's products will always be in demand even if consumers move to lower-priced products. However, you'd like to see pricing power be evident in addition to increasing sales.
So, you would say that a company increased sales or at least saw flat sales while profits increased. When a company reports declining revenue but higher profits, it's an "or" statement.  
That would concern me as an investor, particularly as the tobacco industry continues to be on the wrong side of ESG policies.  
Where Could Investors Be Right? 
Altria isn't unaware of the threat that faces the tobacco industry. Through its U.S. Smokeless Tobacco Company unit, Altria is "the leading producer and marketer of moist smokeless tobacco." Additionally, the company has a 45% equity stake in Cronos Group, Inc., a leading cannabinoid company headquartered in Canada.  
But in both cases, the argument could be made that Altria is shuffling deck chairs on the Titanic. That may be too harsh, but the premise is the same. The company is in an industry that is out of favor.  
What to Do with Altria Stock? 
Heading into earnings, analysts surveyed by MarketBeat gave Altra stock a Hold rating with a price target of $46.91. Coincidentally, that's right about where the stock is in mid-day trading. Of course, analysts may issue more bullish guidance after the report. But with interest rates likely to remain elevated and an economy weakening, I wouldn't count on that.  
If I owned Altira stock, holding on to it and collecting a dividend would be a good strategy for now. The market will likely post tepid gains at best, and MO stock may be able to keep up. But if the January effect turns into something more, investors may want to look for better options.