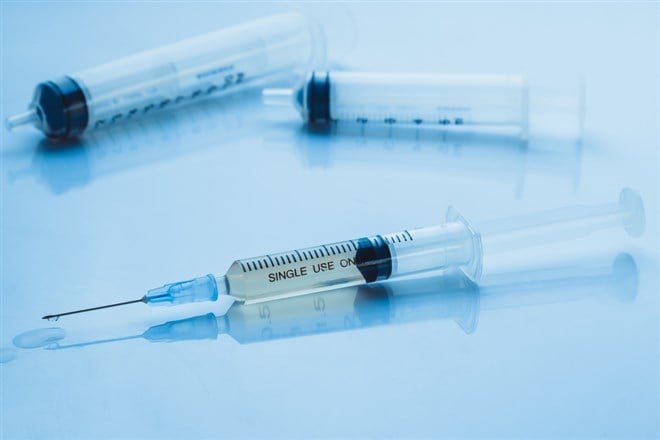 Shares of Sanofi (NASDAQ: SNY) were up 10.20% the week ended March 24, while Regeneron Pharmaceuticals Inc. (NASDAQ: REGN) finished with a gain of 9.68%, following promising news about the companies' jointly developed medication Dupixent.
In Phase 3 clinical trials, Dupixent reduced severe flare-ups of chronic obstructive pulmonary disease (COPD) at a far better rate than a placebo. 
In a joint news release, the companies said, "Dupixent is the first and only biologic to demonstrate a clinically meaningful and highly significant reduction (30%) in moderate or severe acute exacerbations of COPD (rapid and acute worsening of respiratory symptoms) over 52 weeks, while also demonstrating significant improvements in lung function, quality of life and COPD respiratory symptoms."
Dupixent already has regulatory approval for asthma, as well as skin conditions such as eczema, but its potential as a COPD treatment could be a game-changer. 
Worldwide, COPD is the third leading cause of death. Smoking is a leading cause, along with exposure to certain chemicals. Despite the prevalence of COPD, it's been challenging to produce treatments, due to the illness' complexity. 
Rival Products Face Approval Hurdles
Fellow pharmaceutical manufacturers AstraZeneca PLC (NASDAQ: AZN) and GSK plc (NYSE: GSK) are attempting to enter the market for COPD treatments, but are having trouble getting the regulatory OK for existing products' COPD use. 
Enter Sanofi and Regeneron. The successful clinical trial results have Wall Street enthusiastic about the blockbuster potential for Dupixent's use as a COPD treatment. According to pharmaceutical industry trade publication Fierce Pharma, some analysts believe Dupixent could garner $20 billion in annual sales by 2029. 
On the heels of the news, analysts at Argus boosted their price target on Sanofi, and analysts at Barclays upgraded the stock from equal weight to overweight, as you can see using MarketBeat analyst data. The consensus rating on Sanofi is "moderate buy," with a price target of $60, a 13.23% upside.
Regeneron was the subject of even more analyst upgrades. After the announcement about the trials, eight analysts either upgraded the stock or boosted their price targets. Analysts' consensus rating is "moderate buy" with a price target of $844, a 2.18% upside.
Keep in mind: Analysts' price targets are normally on a short leash, of around 12 to 18 months or even less. A moderate upside forecast of 2.18% in the near term doesn't reflect analysts' conviction about the long-term potential for Dupixent. Even with outstanding clinical trial results, Sanofi and Regeneron still need to get FDA approval, approval from other regulators internationally to sell the drug outside the U.S., and ramp up manufacturing and marketing efforts before they realize any revenue. All of that will take some time to accomplish. 
Dupixent Revenue Already Growing 
Already, Dupixent was a resounding success, with global sales $8.7 billion last year, a 40% increase over 2021. Revenue outside the U.S. is growing, and the patient base for currently approved treatments are expanding, so the drug is a winner even without any COPD revenue. 
Morningstar analyst Karen Anderson wrote that she assumes an 80% probability of approval in 2025. 
Sanofi and Regeneron are both expected to see a decline in earnings this year, with growth resuming next year. As with many big pharmaceuticals, both companies have a long history of profitability. Sanofi's dividend yield is 2.38%, while Regeneron does not pay a dividend. 
Another study is already underway for Dupixent's use to treat COPD, with results expected next year. Sanofi and Regeneron have not said when they would apply for regulatory approval, or whether the OK was dependent upon results of the current study. 
Both Regeron's chart and Sanofi's chart show stocks contiuing to rise on March 27, although some of the March 27 action could be attributed to a broad market uptick. 
Regeneron is still within buy range after clearing a buy point above $800.48. Sanofi is extended beyond its most recent buy point above $49.93.