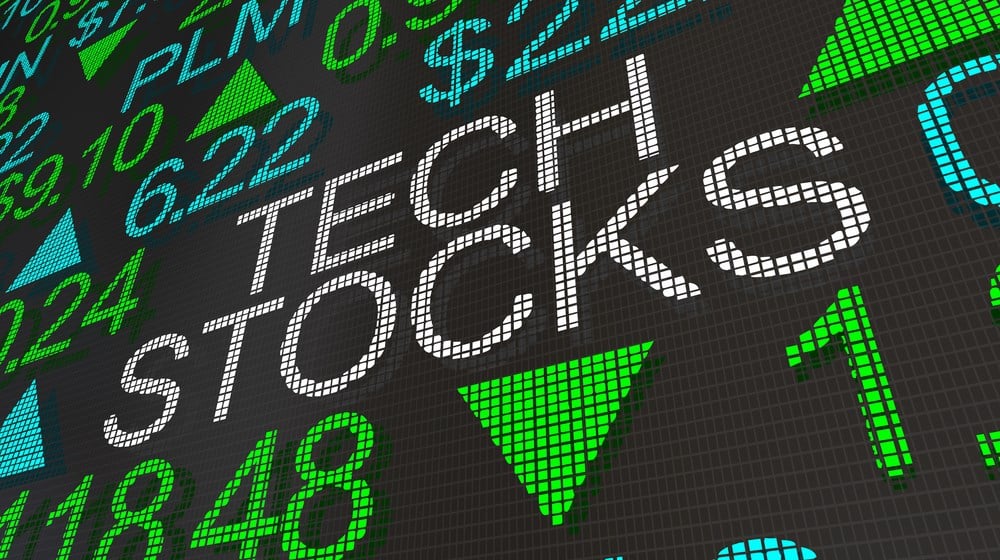 Anyone whose market view is stuck in 2022 should take notice: The tech sector emerged as the big winner in the first quarter, with some of the biggest S&P 500 stocks, including Apple Inc. (NASDAQ: AAPL), Microsoft Corp., (NASDAQ: MSFT), Nvidia Corp. (NASDAQ: NVDA) and Salesforce Inc. (NYSE: CRM) gaining in market capitalization. 
But less well-known stocks Workday Inc. (NASDAQ: WDAY), Cadence Design Systems Inc. (NASDAQ: CDNS) and Fortinet Inc. (NASDAQ: FTNT) also made gains in the quarter and are setting up bullish consolidations. 
The S&P sector, as tracked by the Technology Select Sector SPDR Fund (NYSEARCA: XLK), was the top sector in the first quarter, returning 21.35% in the past three months. 
Other heavily weighted sector components Meta Platforms Inc. (NASDAQ: META), Amazon.com Inc. (NASDAQ: AMZN) and Alphabet Inc. (NASDAQ: GOOGL) were also among the top performers, with big gains in market cap.
But when it comes to screening for potential buys, the biggest names aren't necessarily the first ones to add. Several of those stocks are showing the right combination of sales, earnings and price momentum to qualify as watch list candidates. 
Here are three stocks setting up for gains as the second quarter gets underway. 
Workday
Workday's cloud-based enterprise resource planning software helps businesses manage their human resources and financial processes. It streamlines HR functions such as employee management, payroll, benefits administration, talent management, and workforce planning. Workday can also handle financial processes like accounting, procurement, and expense management. 
Earnings growth slowed in fiscal 2023, but rebounded in the most recent quarter. Revenue growth has held steady, ranging between 15% and 22% in the past eight quarters. The stock returned 23.43% in the first quarter, and a look at its chart shows a breakout from a flat base on March 29. The stock is just out of buy range, but a pullback to a moving average could offer a new buy opportunity. 
Wall Street expects the company to grow earnings by 40% this year, which is fiscal 2024, and by 22% next year. 

Cadence Design
San Jose, California-based chip design specialist Cadence is etching out a specialty in the growing area of chiplets. That's a design approach in which a single electronic system is broken down into smaller, independent parts. These chiplets can be designed and manufactured separately, using different semiconductor technologies and then assembled to create a larger, more complex system-on-chip. This approach offers increased flexibility, reduced development time, and lower costs, as well as the ability to mix and match different chiplets for specific applications.
Cadence has a multi-year history of increasing earnings, as you can see, using MarketBeat data on the stock. Analysts expect the company to increase earnings by 16% this year, and by the same percentage in 2024. 
Cadence's chart reflects a February 14 breakout from a cup-shaped pattern. The stock rallied 8.89% in the past month and 30.78% in the first quarter. It's currently in buy range after pulling back and getting 50-day support on March 28. 

Fortinet
Fortinet provides network security solutions to protect against cyber threats and attacks. Its solutions include firewalls, VPNs, email security, and endpoint protection. Its offerings are designed to provide comprehensive security across the entire network, from endpoints to the cloud, helping its customers protect their data and prevent security breaches.
So it's pretty clear how that business model might be in high demand in the foreseeable future.
The company has been consolidating since January 2022, but has been in rally mode recently, advancing 11.81% in the past month and 35.94% in the past quarter.
If you expand the view on Fortinet's chart to include late 2021, you can see that it rallied to a peak in December of that year, and has been consolidating since. Watch for the stock to clear its current buy point north of $74.35. Its next earnings report, in early May, could be a catalyst for a big price move. Analysts expect the company to earn $0.22 per share on revenue of $1.20 billion.