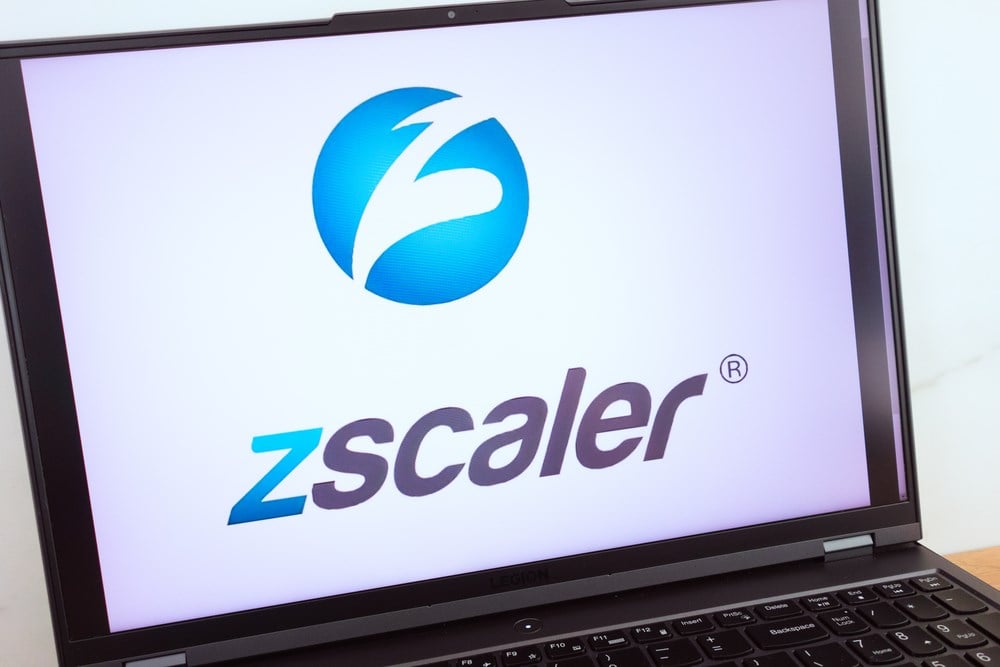 Large-cap cloud security companies Fortinet Inc. (NASDAQ: FTNT), Palo Alto Networks Inc. (NASDAQ: PANW), Verisign Inc, (NASDAQ: VRSN) and ZScaler Inc. (NASDAQ: ZS) are in rally mode recently, after languishing since late 2021. 
While a few name-brand big techs have been leading the market, largely due to AI initiatives, the broader sector hasn't yet caught up. The S&P tech sector, as tracked by the Technology Select Sector SPDR Fund (NYSEARCA: XLK), returned 0.62% in the past month, but lags consumer discretionary, consumer staples, industrials and financials. 
Nonetheless, big cybersecurity companies represent a pocket of strength. All the companies named above are large caps, but only Fortinet and Verisign are currently S&P 500 components. 
Revenue Growth Continuing
While there have been widespread predictions about businesses cutting back on cybersecurity spending, the revenue growth at those companies doesn't bear out that theory. Fortinet, Palo Alto Networks, and ZScaler have all continued growing at double-digit rates, while Verisign continued its trend of single-digit earnings growth, and topped analysts' views in the most recent quarter.
Even if companies are cutting business spending in an environment of high inflation and higher taxes, cybersecurity doesn't exactly seem like an area where big enterprise customers would cut corners. However, it's possible that businesses and governments will opt to consolidate cybersecurity purchases with fewer vendors, with the hope of getting a better deal. 
J.P. Morgan, in an article evaluating cybersecurity trends in 2023, identified three growing trends: 
Social engineering attacks will get even more sophisticated. These include not just phishing, but also tricks to get unsuspecting victims to call a number and download malware, as well as more polished campaigns using AI natural language. 
Ransomware attacks will be used by more threat groups. Cybercriminals are expanding the targets of their attacks to small and mid-size to large institutions.
Supply chain attacks, data breaches and DDoS (Distributed Denial of Service) attacks will remain a threat. Cybercriminals are finding ways to breach standard multi-factor authentication technologies. In addition, world events have further complicated the threat landscape. 
Here's a look at four cybersecurity companies posting strong recent price gains: 
Fortinet
Fortinet specializes in providing cybersecurity to private enterprise and government entities around the world. Its products and services include firewalls, virtual private networks, cloud security, e-mail security, and endpoint protection.  
Shares are up 6.28% so far in May, after first-quarter results exceeded Wall Street estimates, as you can see on MarketBeat's Fortinet earnings data page. The company also issues a revenue outlook above analysts' views. 
In a note following the report, Morningstar analyst Malik Ahmed Khan wrote, "We believe entrenched cybersecurity vendors such as Fortinet are better prepared to weather the macro pressures as their solutions are often must-haves for their clients. We believe that Fortinet, as a platform vendor, also stands to benefit from increased consolidation as customers rein in sprawling IT toolkits and reduce their overall number of IT vendors."
Palo Alto Networks
Palo Alto Networks provides advanced security solutions to protect networks and cloud environments from a wide range of cyber threats, including malware, ransomware, and phishing attacks. 
Shares are up 9.28% in May, on heavier-than-average trading volume. Shares gapped higher on May 8, May 9 and May 10. 
For a little over a year, Palo Alto Networks has been forming a flat base below an April 2022 high of $213.63. The company reports third-quarter earnings on May 23, with analysts eyeing earnings of $0.92 per share on revenue of $1.72 billion. Both would be significant increases over the year-ago quarter. 
Verisign
Verisign is a bit of an odd duck within the cybersecurity industry, as it's best known for being a domain name registry that manages the .com and .net top-level domains, among others. However, as part of that business offering,  the company also provides cybersecurity solutions, such as DDoS protection, to help businesses and government organizations defend against cyber threats.
The company has been steadily growing revenue at single-digit rates in the past eight quarters; analysts expect Verisign to increase earnings by 12% this year, and by another 16% in 2024. 
The stock climbed 2.26% higher in heavy turnover on April 28, after reporting better-than-expected first-quarter net income. 
Verisign analyst ratings show a consensus view of "buy," with a price target of $258.50, representing an upside of 15.95%.
 ZScaler 
Zscaler offers its customers secure access to company applications and data from any device and location. Its platform offers Web security, data protection and cloud sandboxing, which isolates suspicious files and programs to prevent potential threats. 
The company got the cybersecurity rally started by pre-announcing third-quarter results, and boosting its full-year forecast. 
In the May 8 statement, ZScaler CEO Jay Chaudhry said third-quarter results exceeded the high end of the company's previous guidance range. The company updated its full-year revenue guidance to a range of $1.587 billion to $1.591 billion, with the low end significantly higher than the high end of the prior guidance of $1.558 billion to $1.563 billion.
ZScaler analyst ratings show a "moderate buy" on the stock. Following the updated guidance, BMO Capital Markets and Citigroup boosted their price targets. 
ZScaler stock is up 30.55% for the week. A look at the ZScaler chart shows recent resistance between $143 and $144. Watch for the stock to clear that overhead; it's still possible that the earnings report on June 1 could bring more good news to propel the stock yet higher.