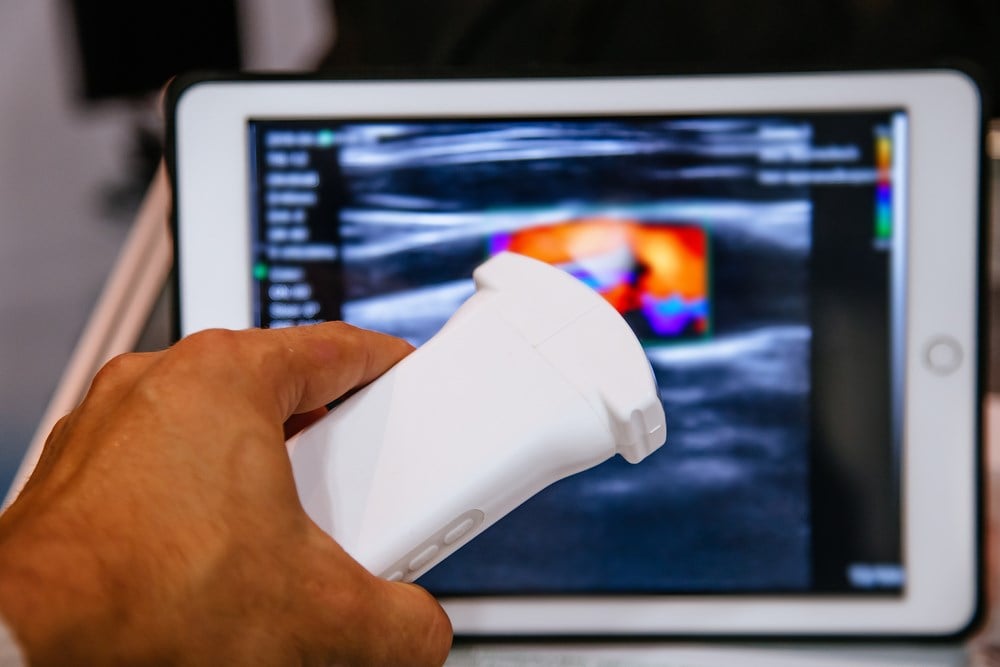 Butterfly Network Inc. (NYSE: BFLY) is a medical imaging solutions company that makes point-of-demand portable ultrasound devices to bring medical imaging to healthcare providers at a deep discount to expensive ultrasound machines. Its intended disruption of the ultrasound industry makes it a direct competitor to incumbent ultrasound devices makers like GE Healthcare Technologies Inc. (NYSE: GE) and Hologic Inc (NASDAQ: HOLX). The company had much hype and fanfare when it went public in February 2021 through a special purpose acquisition company (SPAC) reverse merger. Shares hit a high of $29.13 before making the two-year trek to a low of $1.63 in March 2023.
Big Backers
The Bill & Melinda Gates Foundation and Ark Invest portfolio manager Cathie Wood backed Butterfly. The handheld ultrasound scanner device was deemed a medical disruptor upon launch, but the reality has been more sober. Adoption of the device has been very slow, resulting in rapid cash burn. Cathie Wood purchased 2.61 million shares on April 4, 2023, and another $1.13 million on April 5, 2023.
Butterfly IQ Features
Its handheld portable ultrasound scanner incorporates semiconductor technology, artificial intelligence (AI) and cloud computing utilizing a single probe to generate a complete body ultrasound. The company innovated and patented the process. Its Butterfly Network also stores images and enables collaboration between medical professionals. Most importantly, it helps to train its AI and deep learning technology with over 3.5 million de-identified ultrasound lines utilizing its secure HIPAA-compliant Butterfly Cloud to improve and innovate solutions.
AI-Enabled Lung Tool
This has enabled them to receive a 510(k) FDA clearance on April 4, 2023, for an AI-enabled lung tool that can produce a B-line count from a six-second ultrasound clip. Its Butterfly Teleguidance service enables medical professionals to guide remote users to capture ultrasound images. This can be very useful when a trained sonographer is not available.
Cost Advantage
The Butterfly IQ ultrasound device costs $2,700 versus more than $45,000 to $60,000 for a traditional legacy ultrasound machine cart. Ultrasound imaging can be done for lung, cardiac and bladder using its probe device and connecting to a mobile tablet or phone. The device delivers advanced imaging while lowering the cost of care.
Slow Adoption of the Technology
The medical community is slow to adopt the technology. The notion that any healthcare worker can use the device to scan and interpret results accurately is naïve. The reality is that trained sonographers spent several years honing their skills and completing specialized programs. Doctors are slow to change their ways, and a handheld sonogram almost feels more like a toy than a complicated piece of diagnostic medical equipment.
Slow Down
On February 28, 2023, Butterfly released its fiscal fourth-quarter 2023 results for the quarter that ended December 2022. The company reported $19 million in revenues, which was flat YoY. Adjusted gross profit was $10.3 million versus $7.5 million in the year-ago period. Adjusted gross margins grew to 54.5% versus 39.7% in the year-ago period. Net loss was $33.7 million, up from $15.2 million a year ago. The company ended the year with $242 million in cash.
Founder and Chairman Dr. Jonathon Rothberg commented, "Since launching Butterfly commercially several years ago, our solution has touched the lives of millions of patients and is being used by tens of thousands of practitioners across the globe each and every day. From the most sophisticated health systems in the US and Europe to the most remote conflict areas like Ukraine and acute crises, like the recent earthquake in Turkey and Syria, practitioners are embracing the power of Butterfly and using it to transform how they deliver care."
New CEO
On April 24, 2023, Butterfly announced the immediate appointment of its new CEO Joseph DeVivo. He was the former president of Hospitals and Health at Teladoc Inc. (NYSE: TDOC). He was the CEO and Director at InTouch Health before Teladoc acquired it. DeVivo was the executive chairman of Caption Health, a leading AI-guided ultrasound platform enabling early disease detection and monitoring. Butterfly Network analyst ratings and price targets can be found on MarketBeat.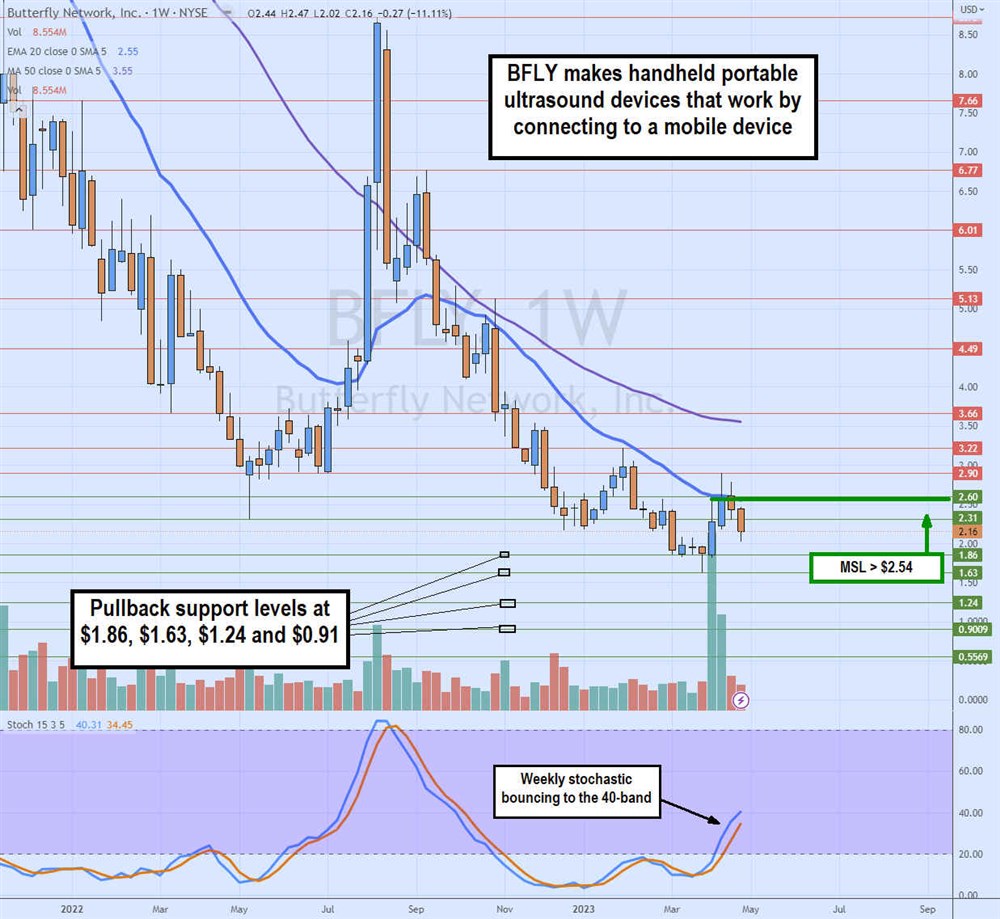 Weekly MSL Trigger Test
The weekly candlestick chart on BFLY is attempting to bounce as the weekly market structure low (MSL) buy trigger formed at $2.54. The weekly stochastic bounced to the 40-band sending shares up to $2.90 before its pullback to the low $2s. The pullback support levels are at $1.86, $1.63 swing low, $1.24 and $0.91. The weekly 20-period exponential moving average (EMA) resistance is $2.55, followed by the weekly 50-period MA at $3.55.