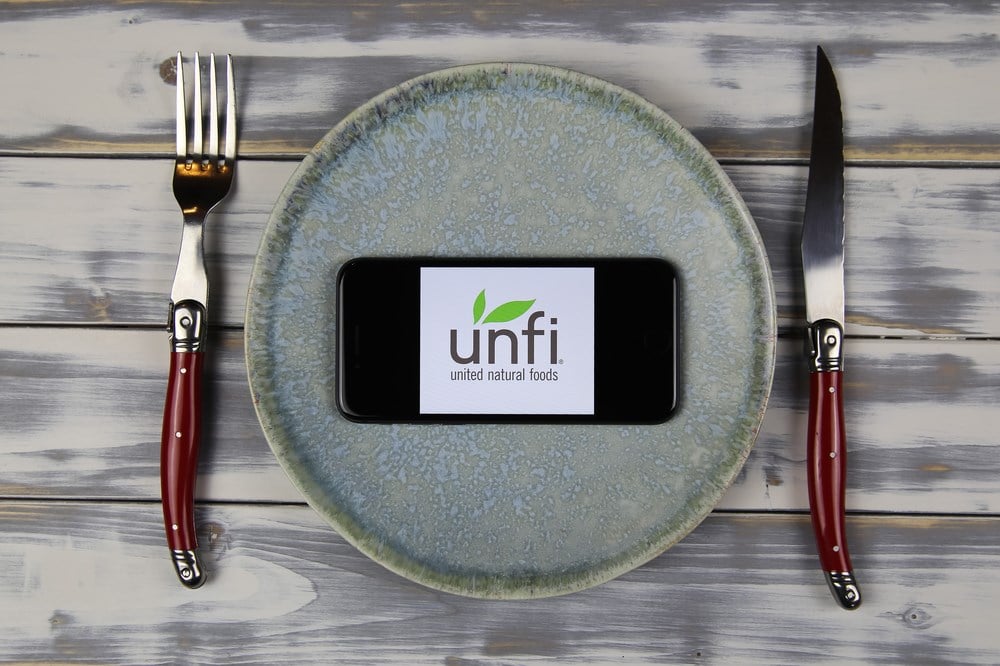 United Natural Foods Inc. (NYSE: UNFI) isn't coming along for the ride in a recovery year for U.S. food distributors. 
The natural grocery wholesaler slipped to a two-and-a-half-year low this month following a dismal April quarterly report. Reeling from a 51% profit plunge and a bleak near-term outlook, United Natural has already seen its market value cut in half this year. Meanwhile, industry peers U.S. Foods and Anderson's are up more than 20% year-to-date.
This month, management announced a regional realignment plan designed to improve efficiency and profitability. Although its products typically contain no fat, there appears to be plenty of it in the organizational structure. In consolidating from four to three operating groups — east, central and west — the company hopes to speed up decision-making and eliminate administrative excess, most at the management and supervisory levels.
There's reason to believe the restructuring will work. In February 2019, industry leader Sysco embarked on a reorganization strategy involving resource realignment, corporate job cuts and stronger customer engagements. 
Sound familiar? Although the pandemic temporarily derailed the plan, Sysco has delivered consistent profit growth in the last few years. 
United Natural has naturally turned to the Sysco playbook in hopes of a similar turnaround. Of course, such changes usually take two, three or more years to bear fruit. So with United Natural trading 65% below its post-COVID peak and market sentiment low, the stock appears to be all but de-risked and a cheap turnaround play.  
What Are the Challenges Facing United Natural Foods?
On top of missing a low fiscal third quarter bar, United Natural drastically lowered its full-year EPS guidance. The revised $1.80 to $2.30 per share estimate implies the company will post a fourth-quarter net loss. 
Not surprisingly, the lack of profits has much to do with inflation. Although sales are up in most channels, the number of units sold is down. In other words, growth is being driven exclusively by price hikes. At the core of the problem is the fact that consumers buy fewer natural, organic and specialty foods. With these items commanding premium prices, shoppers fill their carts with less costly national and store brands.
Shrinkage continues to be a real problem. Customers are stealing United Natural groceries, leading to lost sales. Although a lesser issue than the economic backdrop, shrinkage is having a meaningful impact on financial results — and likely forcing the company to spend more on enforcement and other mitigation efforts.  
Unfortunately, these challenges will likely persist as the Fed grapples with widespread consumer inflation and rogue individuals resort to thievery. United Natural should return to profitability in fiscal 2024, but earnings should remain well below fiscal 2022 levels. At best, this makes United Natural Foods stock a 2025 story. 
Is United Natural Foods a Deep Value Stock?
Investors willing to pin their hopes on more supportive economic conditions and restructuring may have a deep value stock in United Natural. 
Based on the consensus estimate for fiscal 2024 earnings, the stock has a P/E ratio of around 8x. The valuation represents a 50% discount to that of Sysco and a 25% discount to United Natural's five-year historical average. Small-cap peers SpartanNash, Anderson's and Chefs' Warehouse are trading at 9x, 15x and 19x, respectively.
Including oversold technical indicators, the out-of-favor stock checks many of the deep-value boxes. But Wall Street isn't ready to call it a buy. Preferring to wait for signs of recovery, all eight firms that actively cover United Natural considered it a hold. 
Analyst opinions could change if management demonstrates an ability to execute the Sysco playbook. Better-than-expected financials could send United Natural down a long road of multiple expansions.