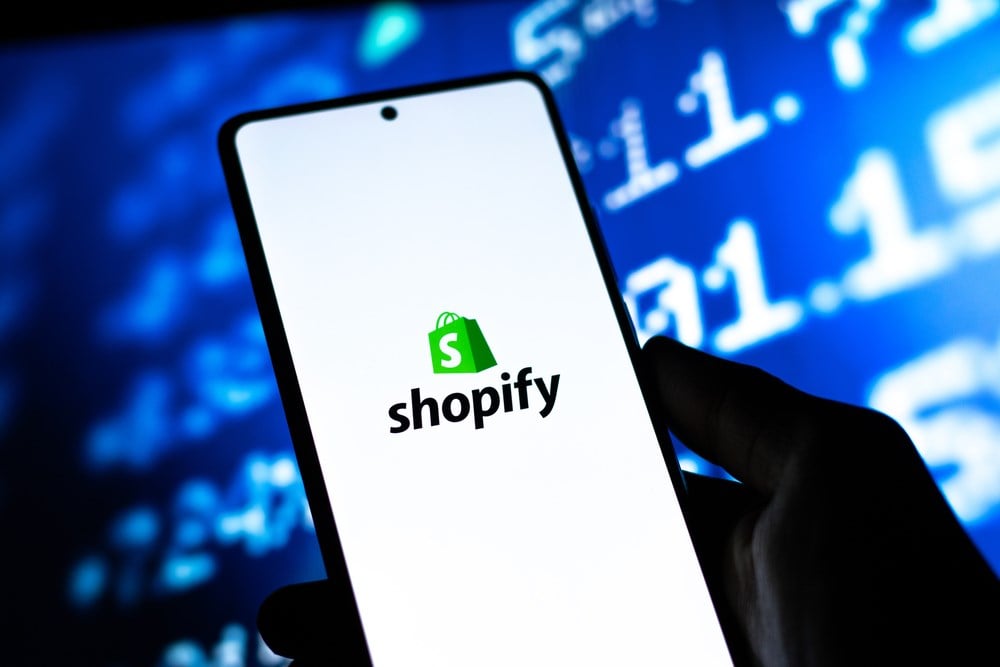 You'd expect to see significant price gains from a stock with forecasts of 715% earnings growth, and that's exactly what's happening with Shopify Inc. (NYSE: SHOP).
Shares of the cloud-based e-commerce platform rallied 6.24% on June 6, closing at $63.66 in trading volume, 86% higher than average. 
The stock has been working on the right side of a consolidation that began in mid-May. Shopify stock currently offers an entry point as it rallied above its 21-day moving average with the June 6 price action. 
Shopify's technology allows small businesses to make online sales without the hassle and expense of setting up their own payment and fulfillment operations. 
Logistics Business Sale Completed
One catalyst for the price move was Shopify's completion of the sale of its logistics business to Flexport, a tech-driven global logistics platform. The transaction was announced in May. 
According to the company, Shopify received stock representing a 13% equity interest in privately-held Flexport and its existing equity interest in Flexport. The two companies will continue to partner on logistics. Shopify also gets a seat on the Flexport board, according to supply chain and logistics trade publication FreightWaves.
The sale also includes Deliverr, a shipping services provider that Shopify acquired in July. 
The sale also meant that the Shopify workforce was slashed by 20%, in addition to a 10% reduction announced in July. 
Shopify analyst ratings show a consensus view of "hold." The stock received a barrage of mixed reviews after its most recent earnings report on May 3, when it also announced the Flexport deal. 
Revenue Skidded Post-Pandemic 
Earnings have been a weak spot for Shopify, as net income declined by nearly 94% in 2022. This was one of many companies that benefited handsomely from the pandemic boom in online shopping. We all know how that story ended, and Shopify's revenue growth slowed significantly last year, although still increasing at double-digit rates. 
The stock rallied to a high in November 2021, then declined by an almost unimaginable 75% in 2022. A glance at the Shopify chart will show you the uptrend late in the year, which kept the decline from being worse. 
Analysts are forecasting earnings per share of $0.33 this year, a gain of 715% in a strong turnaround from 2022, admittedly against easy comparisons. Wall Street still expects a loss in the current quarter but sees revenue growing by 25% to $1.62 billion. 
Beating Sales And Earnings Views
Shopify earnings data, tracked by MarketBeat, show the company exceeded net income and revenue views in the past three quarters. 
The company's business model is driven by its ability to attract new merchants, retain revenue from existing merchants, and increase sales to new and existing merchants. 
Some big investors are getting on board with Shopify's long-term potential. Shopify institutional ownership data show 851 institutional buyers accounting for $12.25 billion in inflows in the past 12 months, as opposed to 392 sellers accounting for $8.63 billion in outflows. You can extrapolate that the buying has picked up since October, when the stock began rallying from its lowest level since April 2019. 
Outperforming S&P Tech Sector
Shopify is based in Canada, so it's not eligible to be part of the S&P 500. However, with a market capitalization of $80.61 billion, it would qualify if it were U.S.-based. As such, the most appropriate performance benchmark is the Technology Select Sector SPDR Fund (NYSEARCA: XLK), which Shopify is outperforming on a three-month and year-to-date basis.
Shopify pulled back 3.40% in the past month as it formed its current consolidation. However, that appears to be essentially a round of profit-taking after the stock raced 62% higher after its recent quarterly report. The June 6 price action is a good signal that institutional buyers still have conviction about the stock, and it may potentially be lucrative for investors who opt to get in before the company's fortunes turn higher.