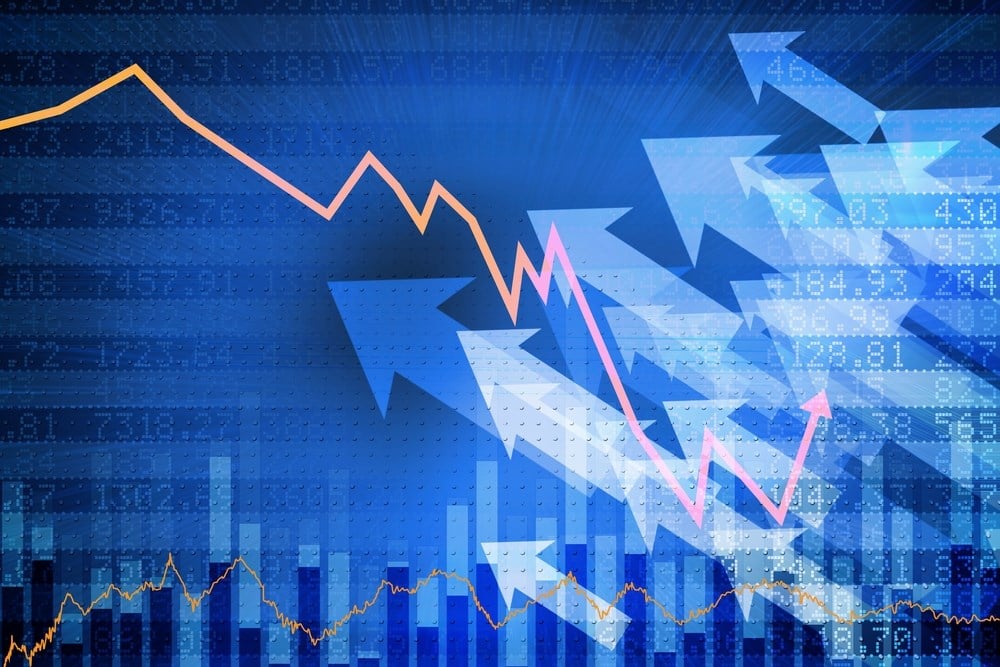 Over the last five weeks, MicroVision (NASDAQ: MVIS) stock is up almost 300%, marching in an almost straight line upwards, with only two red days since the rally started.
The stock has become the subject of a short squeeze; social media hype and the company's past involvements in augmented reality (AR) boosted it after Apple's Vision Pro AR headset product reveal.
There's no doubting the stock's significant momentum, but does the stock have additional upside once the short squeeze ends?
Why is MicroVision Moving?
There are two primary reasons that MicroVision (NASDAQ: MVIS) is skyrocketing right now.
Reddit Short Squeeze
Traders discovered that 27% of MicroVision's float is sold short. This high level of short interest creates inherent buying pressure as short sellers scramble to cover their positions on any sizable uptick in the stock.
A positive feedback loop is created whereby shorts cover and push the price up, forcing other shorts to cover. Speculative traders taking advantage of the squeeze add fuel to the squeeze.
Of course, the social media dynamic can fuel short squeezes far beyond historical expectations, as we've seen several times since the ground zero social media short squeeze, GameStop.
MemeStocks.org, which tracks the most mentioned stocks on Reddit's WallStreetBets board, reports MicroVision as the top stock on WSB right now, tripling the mention count of the #2 stock.
The shorts have certainly been squeezed. Based on the price action over the last month, many of them have probably covered their short positions: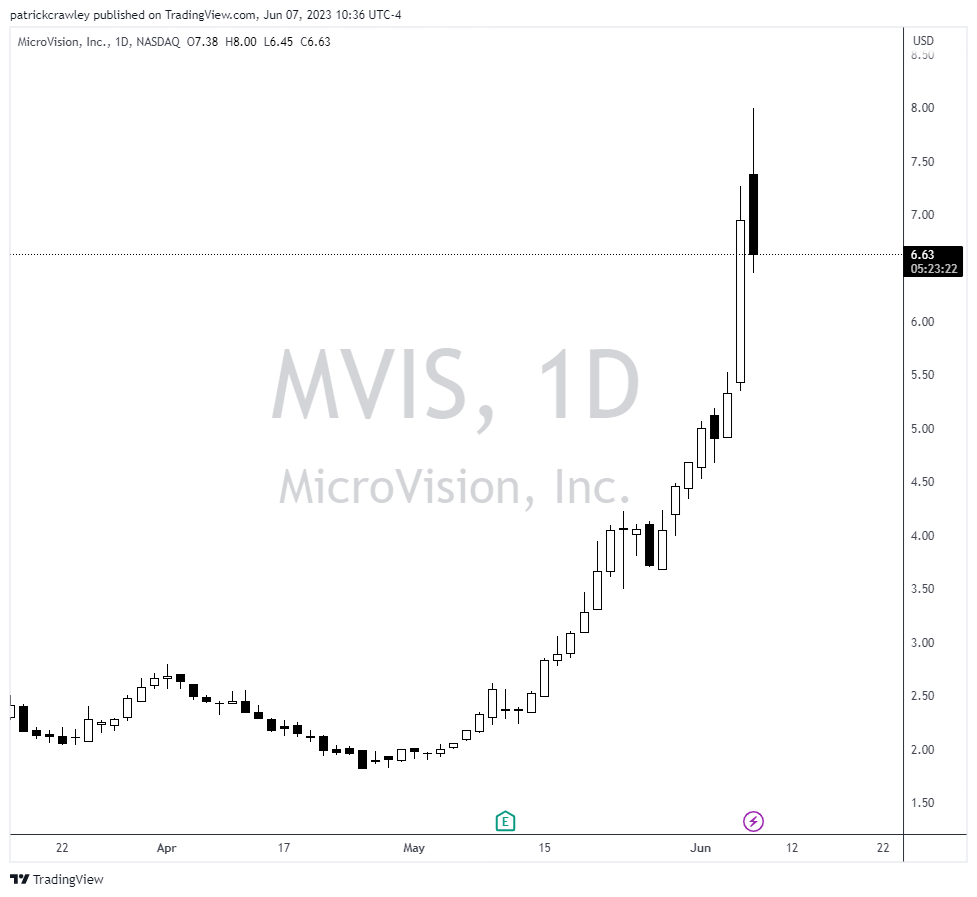 Augmented Reality Hype Creates Momentum
After Apple announced the Vision Pro augmented reality (AR) headset, many AR-related stocks like Vuzix (NASDAQ: VUZI) and MicroVision (NASDAQ: MVIS) started rallying as sympathy plays.
However, MicroVision has exited the AR space. The company used to develop designs for AR headset displays, but now its operations are entirely focused on LIDAR.
The company's most recent 10-Q reports the company's lack of involvement in AR:
"In the recent past, we developed micro-display concepts and designs for use in head-mounted augmented reality, or AR, headsets... Although our development and productization efforts are now solely focused on our lidar sensors and related software solutions."
MicroVision: Speculative Play or Solid Investment?
Usually, there's a good reason for a stock to surge. Nvidia is a recent example. The advent of AI could mean it owns the rapidly growing data center GPU market, so the stock has been skyrocketing on these expectations.
However, as in the case of stocks like GameStop and AMC Entertainment, rallies that start as the result of social media trends are typically short-lived and not backed by fundamentals.
Let's look under the hood of MicroVision (NASDAQ: MVIS) and figure out where it stands.
MicroVision: Financial Performance
MicroVision went public in 1996, and its revenue has remained relatively small, peaking in 2018 at a modest $18 million. The situation has since declined as the company reported just $664,000 in revenue in 2022 while racking up $30 million in research & development costs.
The trend is hardly encouraging, given that its revenue consistently fails to surpass R&D expenses, as you can see in the chart below: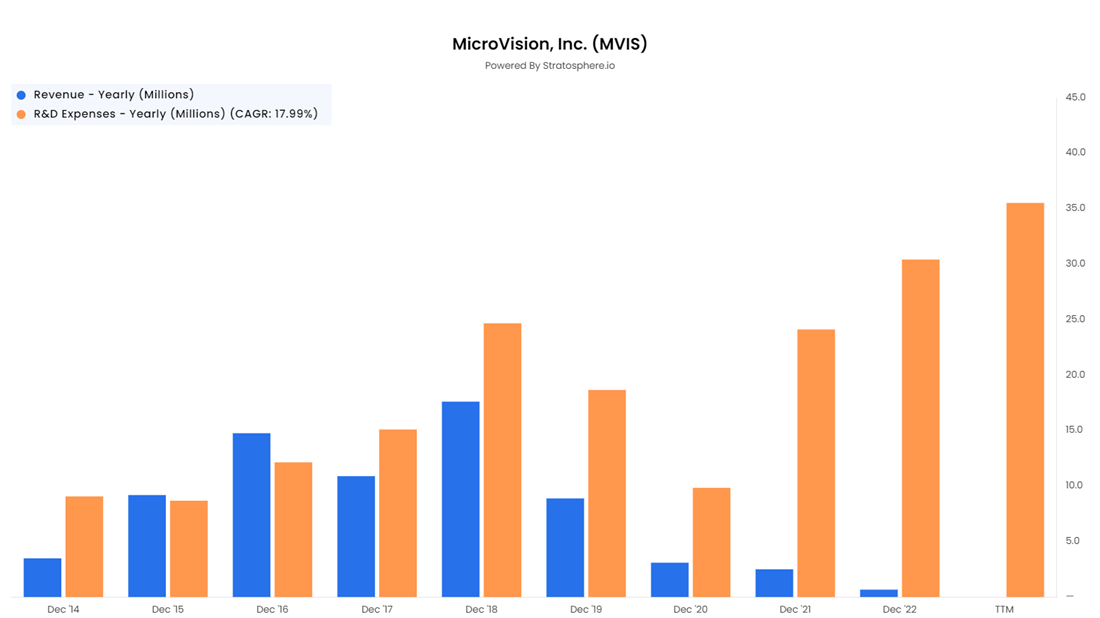 To put these revenue numbers in perspective, the stock currently has a market cap of $1.2 billion, which puts the stock's price-to-sales multiple at 1807x based on 2022 sales.
The company doesn't see greener pastures in the short-term, as according to MicroVision's most recent 10-Q, the company expects more losses in 2023:
"We have been unable to secure the customers needed to successfully launch our products. We have incurred substantial losses since inception, and we expect to incur a significant loss during the fiscal year ending December 31, 2023."
Despite this, the company's focus on the LIDAR market could eventually yield significant gains. But as of now, MicroVision's valuation is best described as ambitious.
With that in mind, MicroVision (NASDAQ: MVIS) is an excellent example of the dangers of over-relying on fundamentals. Sometimes stocks trade solely on momentum and hope for future product success rather than a multiple of earnings.
Several short sellers have learned that lesson the hard way over the last month or so, and any prospective short sellers of MicroVision should beware of the significant risks involved when shorting stocks with as much hype as MicroVision.
Check out MarketBeat's MarketRank Forecast for MicroVision: