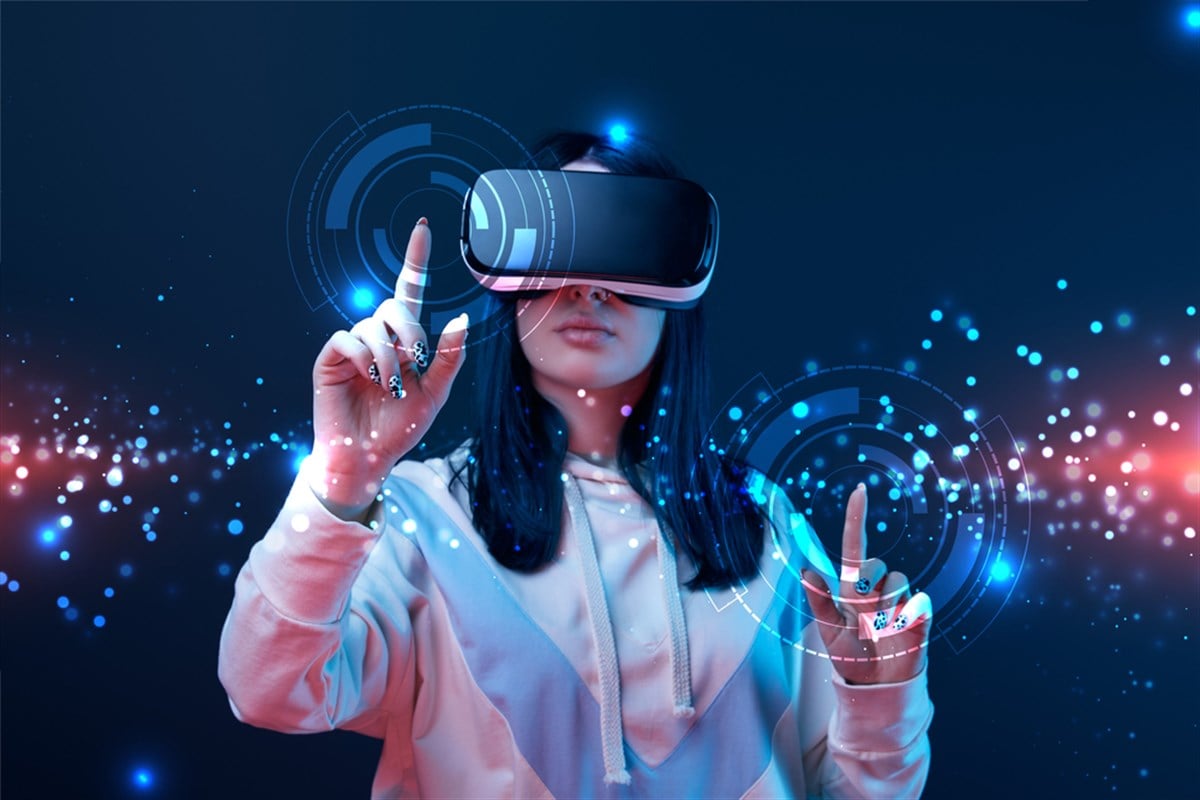 Apple's reveal of the Vision Pro headset has rekindled investor excitement for virtual and augmented reality. As the tech giant's first product launch since the Apple Watch in 2014, it signals Apple's confidence in this growing but uncertain market.
Amidst the buzz surrounding Apple, other players in the VR/AR industry are worth examining, including The Glimpse Group (NASDAQ: VRAR), Vuzix (NASDAQ: VUZI), and Kopin Corporation (NASDAQ: KOPN).
The Glimpse Group
The Glimpse Group (NASDAQ: VRAR) is a micro-cap conglomerate of small software and services firms focused in the VR/AR industry. The company claims to be the first Nasdaq-listed pure play on VR/AR, planning to become the premier VR/AR software and services company.
So far, its strategy is composed of acquiring small niche players in the growing industry, like QReal, which develops AR technology like Snapchat lenses or a smart mirror for Sephora that lets you virtually try on makeup products.
But Glimpse's biggest asset is Sector 5 Digital, which accounts for most of its contract revenue. S5D is a creative agency that works on VR experiences, for example, a VR experience of a Cessna plane so customers can "test drive" the plane virtually. S5D has also partnered with various global brands like American Airlines and Airbus.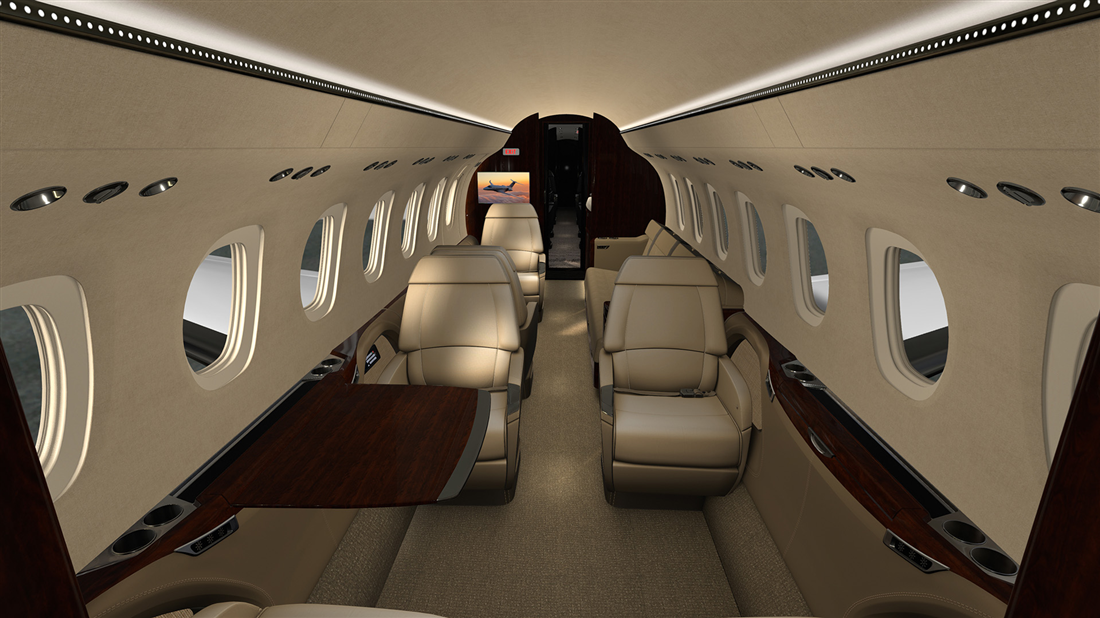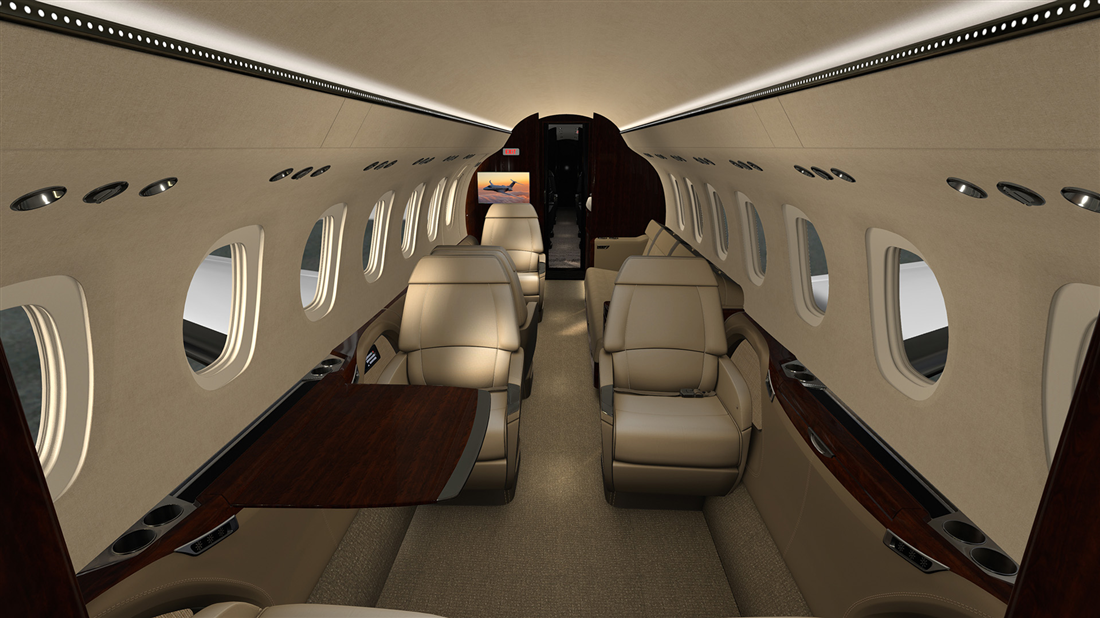 While Glimpse's sales numbers are still relatively low for a public company, it's showing significant revenue growth at a 94% compounded annual growth rate: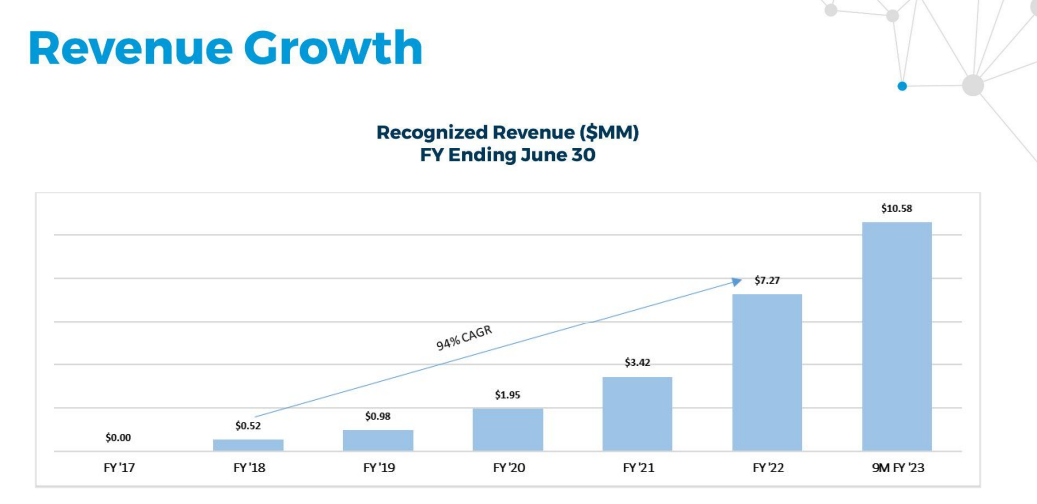 However, its losses have scaled with revenue growth, which Glimpse aims to address with expense control. And most significantly, the company expects to be cash flow neutral by the end of the 2023 calendar year.
Between the company's lack of debt, impressive revenue growth, and breakeven guidance, The Glimpse Group (NASDAQ: VRAR) is better positioned financially than most micro-cap companies in emerging sectors like VR/AR.
Vuzix
Vuzix (NASDAQ: VUZI) sells augmented reality-enabled smart glasses for enterprise use. Founded in 1997, Vuzix has been working on virtual and augmented reality technology since its founding. The company generated buzz in 2007 by releasing iWear VR920, a budget VR headset for gamers. At a time when most VR headsets were expensive prototypes or vaporware, the VR920 generated positive feedback from critics.
Vuzix has since shifted to augmented reality, shunning VR. The company said, "Connecting digital to the real-world changes everything, and this is Vuzix's ultimate goal!" about its AR focus.
Nowadays, Vuzix's flagship product is the M400, a discrete, 3-ounce smart lens designed to not get in the user's way, offering a hands-free experience. The company pitches them as efficiency improvers primarily for the industrial and medical industries.
It's clear that Vuzix has been chugging away at the VR/AR puzzle for decades while improving its technology and seeking product/market fit. But thus far, the company has failed to reward shareholders in stock appreciation or returns of capital. VUZI stock trades below its 2011 IPO price: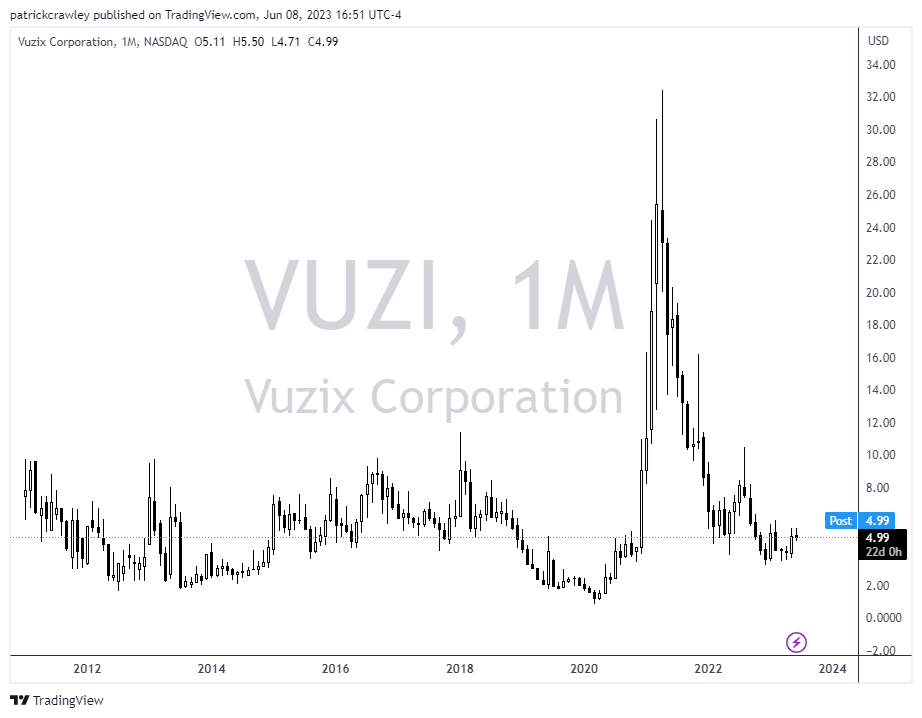 The company's revenue started picking up in 2019, growing at a 24% compounded annual growth rate. However, R&D expenses alone account for the majority of revenue since then, and that's without accounting for other costs: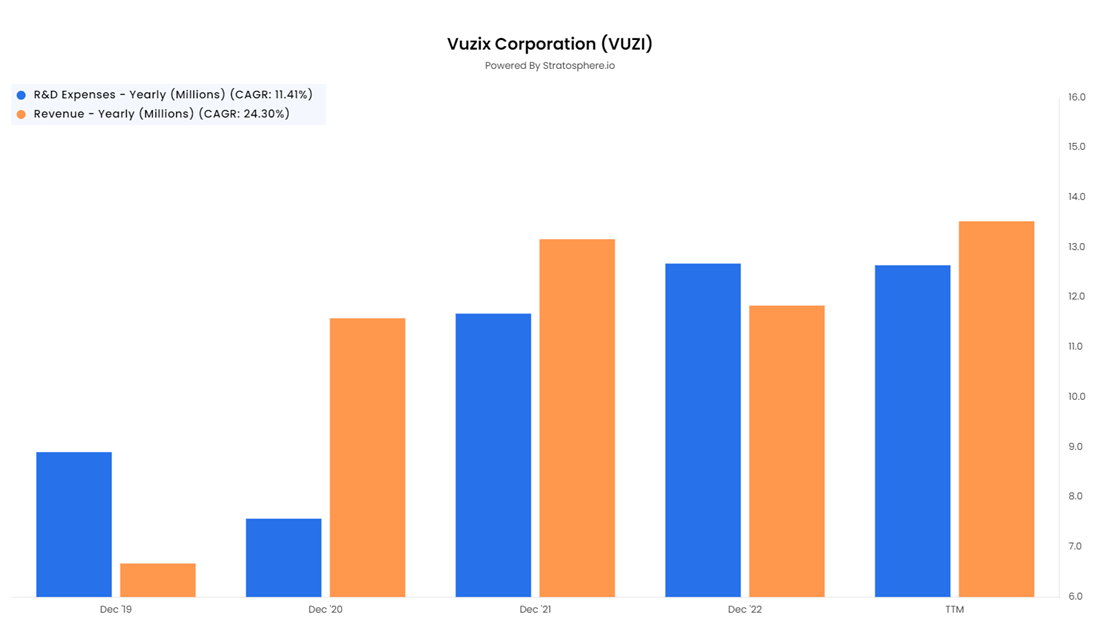 Kopin Corporation
Kopin (NASDAQ: KOPN) makes MicroDisplays, which are used in smart glasses, VR/AR headsets, and several defense and military applications. They're small displays that are typically smaller than 2 inches diagonally.
Kopin is one of the top players in the MicroDisplay market, which is projected to grow at a 24% rate through 2028, according to MarketsAndMarkets. With its primary competitors being foreign companies like Sony and Seiko Epson, Kopin is the only major US-based MicroDisplay producer after competitor eMagin (NYSE: EMAN) agreed to be sold to Samsung last month.
Completing the eMagin/Samsung deal would make Kopin the largest NATO and Department of Defense-approved OLED/ULED provider. Kopin sees defense and the military as critical to its long-term growth strategy. Hence, the eMagin deal is a massive win for them.
Still, questions loom about Kopin's investability. The company has been public since before the dotcom boom and has failed to give shareholders a substantial return. On a split-adjusted basis, Kopin's stock price is almost exactly where it was at its 1992 IPO.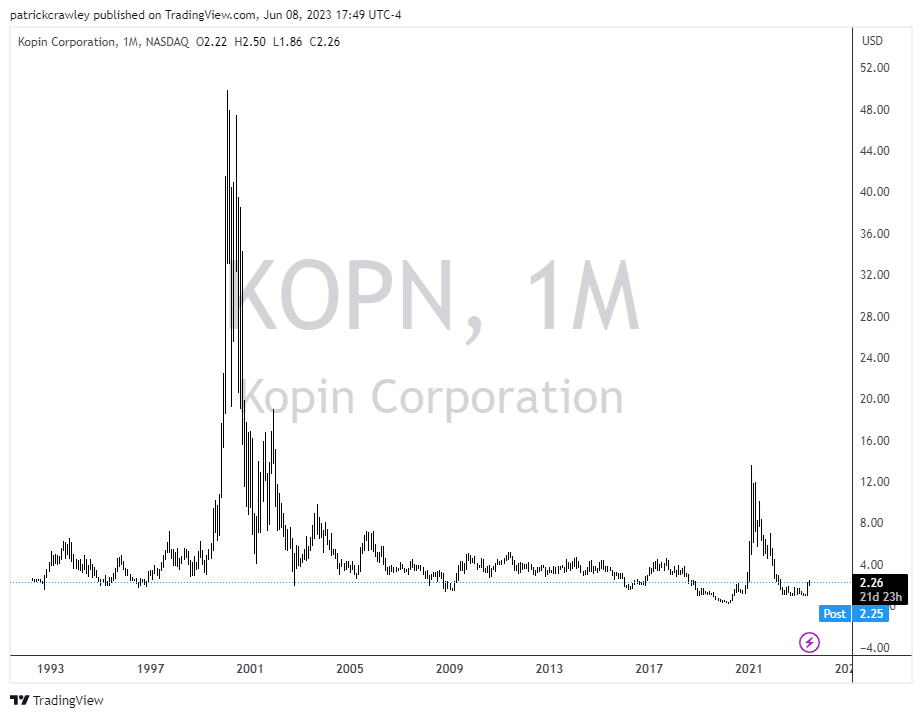 Change is afoot, though. Kopin recently embarked on an aggressive restructuring plan, reducing its workforce and spinning off a piece of its OLED division. With these changes only occurring in January 2023, operational results will likely suffer in the short term before we examine the ultimate outcome.
The undoubted growth of VR and AR applications for its products will likely be a boon for the company, but one has to ask: is Kopin (NASDAQ: KOPN) the best pure play on VR/AR? The stock price will answer that question in the coming months.