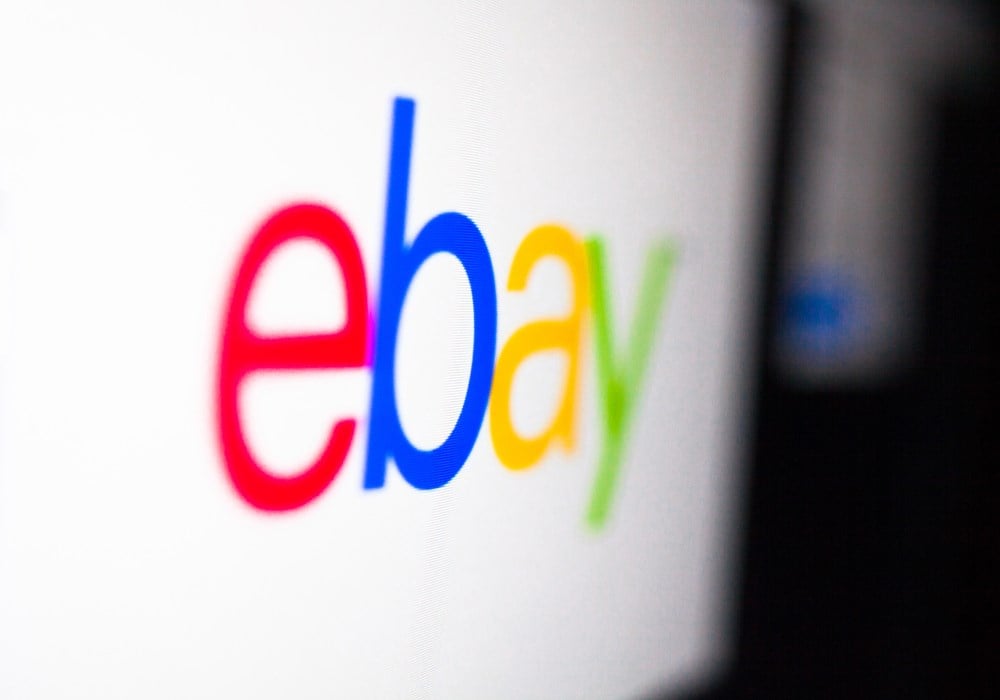 Global digital marketplace platform eBay Inc. (NASDAQ: EBAY) is taking a large step towards establishing itself as a safe and trusted source for designer and branded fashion, jewelry, apparel and collectibles destination. eBay has been stepping up its authentication services to assure buyers of its credibility.
Many e-commerce and digital marketplaces for branded fashion and resale items, like The RealReal Inc. (NASDAQ: REAL), ThredUp Inc. (NASDAQ: TDUP), and Farfetch Limited (NYSE: FTCH), have beefed up verification and authentication services to establish credibility and shore up buyer confidence.
Counterfeit Culture
Counterfeiting is the largest criminal enterprise in the world, according to the U.S. Patent and Trademark Office. As of 2018, it's estimated that sales of counterfeit goods total $1.7 trillion to $4.5 trillion annually.
According to the U.S. Customs and Border Patrol, nearly 90% of counterfeit seizures occur through international mail, express environments and e-commerce packages to the U.S. Approximately 10% of all branded goods sold are counterfeit. eBay has steadily been growing its anti-counterfeit programs to ensure trust in its products.
Authentication Actions
eBay took action to authenticate and verify collectibles like trading cards. eBay has a verification and authentication team where cards can be sent for verification and, stored in "the Vault" resold by eBay with a verification guarantee. It promotes having "Certified By Brand" products directly from the brands or authorized sellers.
eBay is accommodating its growing collectibles segment with authentication while jumping in on the artificial intelligence (AI) frenzy with its Certilogo acquisition. 
Authenticity Guarantee
The eBay Authenticity Guarantee is a service that involves authenticators physically inspecting brand items before shipping them to the buyer. Sellers ship their product to eBay for verification and authentication, and they will ship it to the customer with an NFC-enabled card and Authenticity Guarantee badge within three days.
This inspires confidence in buyers as every authentic guaranteed item comes with a money-back guarantee. It also protects sellers if a buyer reports the item as not a describer. If the item is returned, authenticators inspect it before sending it back to you.
Fashion Brands and Jewelry Authentication
The Authentic Guarantee is available to select brands and merchandise for items sold for $500 or more. Eligible brands range from Chanel and Balenciaga to Louis Vuitton, Parada and Versace. Jewelry is inspected by experts from the Gem Institute of America (GIA) following the same process where the seller ships to the authentication team, which goes thru a multi-point inspection to verify authenticity and ship to the buyer.
This Authenticity Guarantee service is free for now. It could be another revenue stream if eBay starts charging a fee as sellers and buyers experience the benefits.
Collectors are a Growth Driver
The collectibles market is estimated to be worth over $300 billion and growing at a 10% annual rate. eBay has taken notice of collectibles being a growth driver. Collectors are classified as enthusiast buyers and have grown to over 16 million accounts. This group accounts for over 50% of its gross merchandise volume (GMV).
Trading Cards Authentication
eBay has been beefing up its collectibles business as a key growth driver. The Authenticity Guarantee service applies to trading cards and sneakers. eBay has partnered with professional grading companies like CGC, CSG, GMA and PSA.
Sellers can ship single ungraded and graded cards to the authenticators, who verify authenticity and ship them to the buyer. It's worth noting that eBay doesn't grade the cards, just authenticates them.
Sneaker Authentication
As for sneakers, they are shipped to a team of independent authenticators that inspect the box, sizing labels, soles, stitching, logos, heel tabs and laces before verification by attaching an NFC-enabled tag on the left shoe.
Grading and authentication is a growing business, as evidenced by BlackRock )NYSE: BLK) acquiring the largest comic book authentication company Comics Guarantee Corp. (CGC), for $400 million in November 2021.
Certilogo and
Certilogo step in front of the sequence by having the brands include a Certilogo-verified digital ID stitched into the apparel or QR-coded on the tag. The buyer can type this ID on the Certilogo app or platform to verify authenticity, origin, shipping footprint and more details. Certilogo uses AI,  image recognition and machine learning algorithms to identify and flag counterfeit products.
AI can improve the accuracy and efficiency of its brand protection services. It also enables brands to attain buyer data, manage returns, authenticate products and combat counterfeiting.
Authentication Monetization
With this acquisition, eBay enters the authentication services market by monetizing its services directly with the brands. Certilogo collects its fees directly from the brands. This monetization initiative could also lead to value-added authentication fees if eBay sellers and buyers adopt and embrace the Authenticity Guarantee service on a wide scale.
It's the Uber Technology Inc. (NASDAQ: UBER) strategy of offering a service for cheap or free until you hook the users as it becomes a standard. Once users have adopted the service, they raise prices and monetize it.
eBay analyst ratings and price targets are at MarketBeat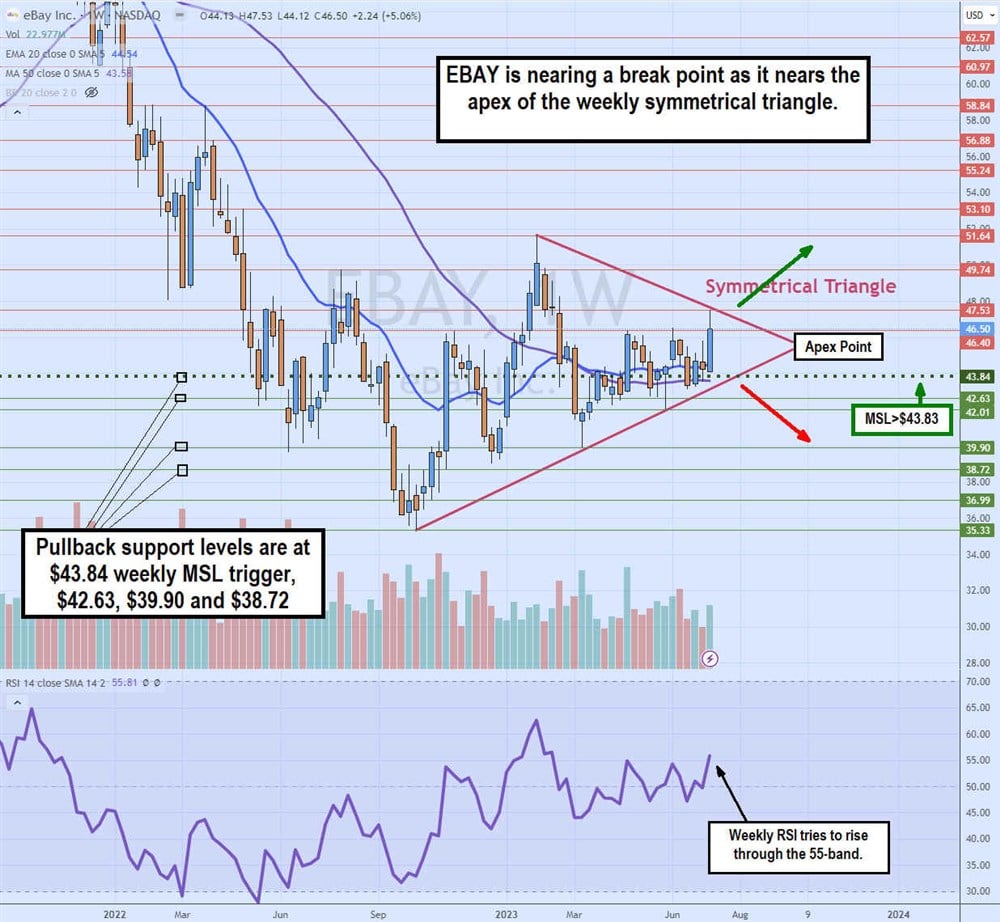 Weekly Symmetrical Triangle Pattern
EBAY has formed a symmetrical triangle pattern on its weekly candlestick chart. This triangle chart pattern comprises lower highs forming the descending upper trendline and higher lows forming the lower ascending trendline. As the trendlines converge at the apex point, the stock should break out or break down before reaching the apex.
The weekly 20-period exponential moving average (EMA) is flat at $44.54. The weekly market structure low (MSL) trigger is above $43.84. The relative strength index (RSI) momentum oscillator attempts to bounce through the 55-band. With a breakout or breakdown imminent, waiting for the resolution of the symmetrical triangle entering is prudent. Pullback supports are $43.84 weekly MSL trigger, $42.63, $39.90 and $38.72.