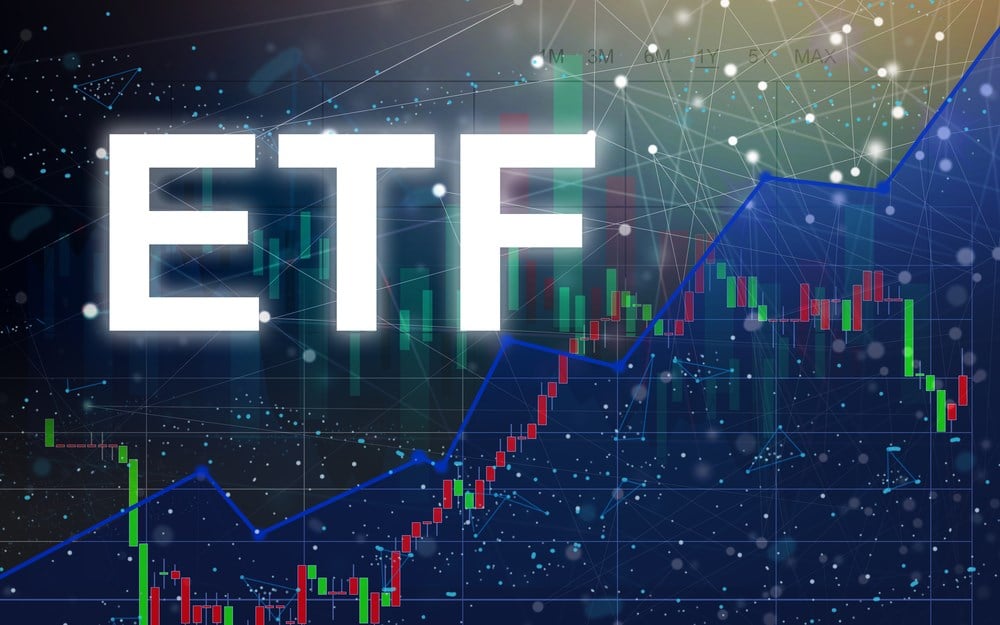 As the technology sector continues to drive the market's impressive surge this year, it becomes crucial to familiarize ourselves with the leading and most popular tech-focused exchange-traded funds (ETFs). Understanding their highest-weighted players and unique offerings can provide valuable insights into the sector's dynamics, given its current leadership in the market.
As tech's dominance remains evident, exploring these ETFs becomes essential for investors seeking to capitalize on the sector's potential future growth and impact on overall market performance.
You might be wondering, why should I invest in an ETF when I can just focus on an individual stock? Investing in ETFs offers instant diversification, reducing risk and providing cost-efficiency compared to single stocks. ETFs also offer liquidity and accessibility to a wide range of assets, making them suitable for seasoned and novice investors. So with that being said, let's take a closer look at three popular tech-focused ETFs.
Invesco QQQ (NASDAQ: QQQ)
The Invesco QQQ is a leading ETF and arguably the most popular technology-focused ETF. QQQ is an excellent choice for investors seeking diversification, exposure to Nasdaq-100 Index, and growth potential in top technology companies. 
The fund offers low fees, tax advantages, and the convenience of passive investing with a diverse range of assets. QQQ has a dividend yield of 0.56% and a net expense ratio of 0.20%.
The ETF is up 44% year-to-date and has dramatically outperformed the benchmark S&P 500 by over 20%. The ETF has over 51% exposure to the technology sector, with 18.1% exposure to the semiconductors industry and 17% to the software industry. Geographically, the ETF focuses predominantly on U.S. companies, with a 99.2% exposure to the U.S.
QQQ Top 5 Holdings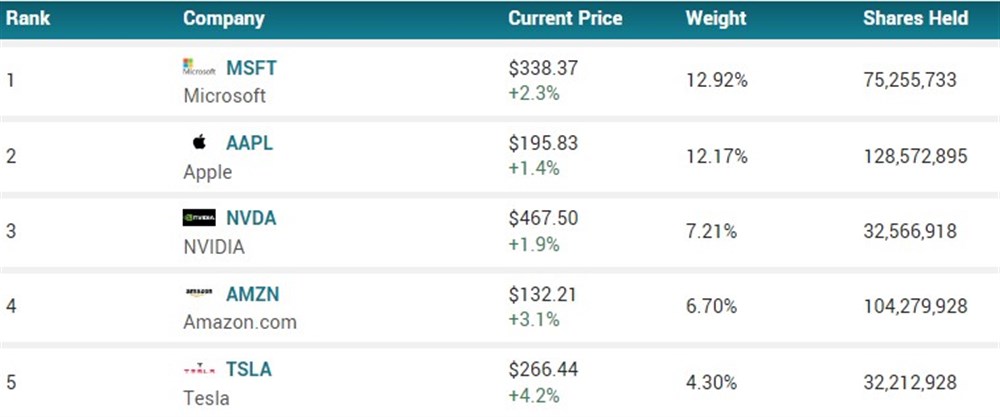 Technology Select Sector SPDR Fund (NYSE: XLK)
The XLK ETF aims to match the performance of the Technology Select Sector of the S&P 500 Index. The fund passively invests in stocks related to IT consulting, semiconductor equipment, computers, telecommunications, and wireless services.
The fund currently has $51.54 billion in assets under management, a dividend yield of 0.72%, slightly higher than the QQQs, and a net expense ratio of just 0.10%.
Like the QQQs, XLK mainly focuses on U.S. companies, with a 96.3% U.S. geographic exposure. The ETF has a 96.9% exposure to the technology sector, with 37.5% software industry exposure, 26.9% communications equipment industry exposure, and 25.3% in semiconductors industry exposure. 
Year-to-date, the ETF is up 43%, and with its vast exposure to the technology sector, it's no surprise that it has vastly outperformed the S&P 500 index.
XLK Top 5 Holdings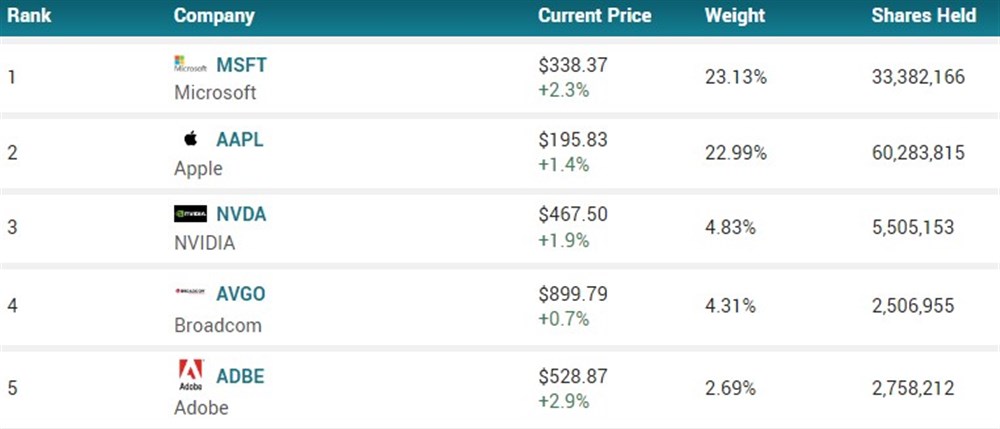 ARK Innovation ETF (NYSE: ARKK)
ARKK is an actively managed ETF that seeks to provide investors with exposure to disruptive and innovative technologies that have the potential to shape the future. The ETF invests in companies across various sectors, such as healthcare, robotics, the Internet of Things (IoT), and artificial intelligence.
The fund has $9.08 billion in assets under management, a considerably higher expense ratio of 0.75%, and no dividend yield.
Unlike the XLK or QQQ, ARKK has spread its sector exposure across various industries. The ETF has a 23.9% sector exposure to technology, 19.3% to consumer discretionary, and 16.2% to health care. Its top four industry exposures are software at 12.9%, automobiles at 10.3%, IT services at 10.3%, and consumer products at 8.9%.
Year-to-date, the ETF boasts a staggering return of 58%, up almost 38% over the last three months. 
ARKK Top 5 Holdings