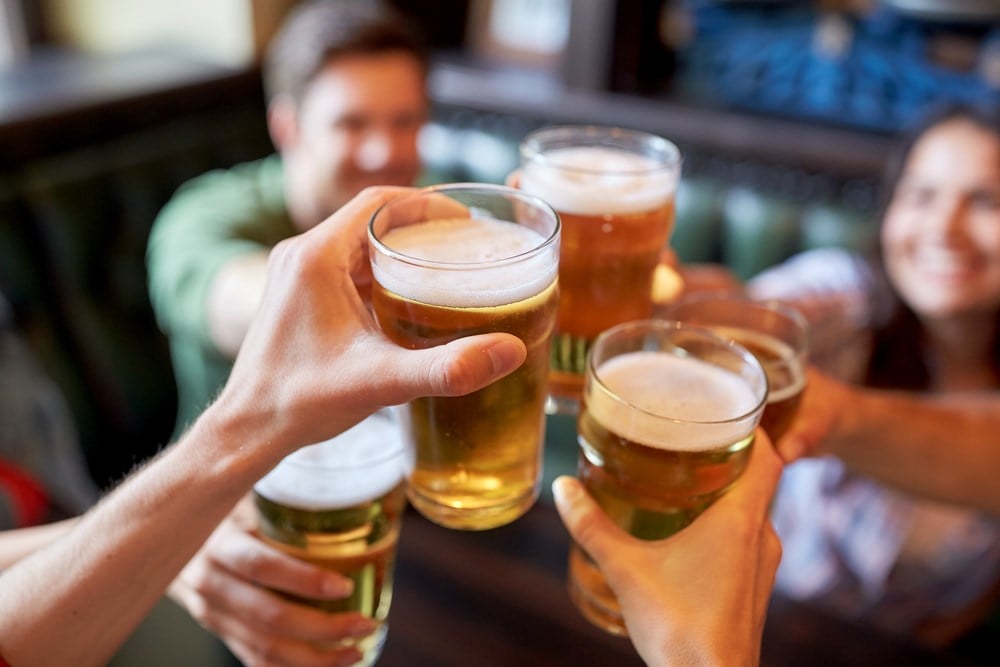 Beer and football go together like peanut butter and jelly. That's why savvy investors can use the kickoff of football season to add one or more beer stocks to your portfolio. Historically, these companies deliver their strongest revenue and earnings in the third and fourth quarters of the year.  
That's not by accident. Football has a way of bringing people together, and when you need to buy beer in quantity, traditional beer brands win their share of consumers' wallets.  
And that's not likely to change. According to Statista, the U.S. beer market is expected to deliver $121 billion in revenue in 2023. Analysts also expect the compound annual growth rate (CAGR) for the sector to be 4.77% between 2023 and 2027  
However, it's tough to invest in beer stocks. In addition to competition within the sector, consumer tastes are changing. The popularity of craft beers and other specialty drinks is eating into revenue and earnings for traditional beer companies. 
Here are three beer stocks that offer investors significant growth opportunities as football season kicks off.  
The Winner in the 2023 Beer Wars 
Constellation Brands, Inc. (NYSE: STZ) is the winner of Bud Light's troubles. Constellation is the parent company of the Modelo brand. And in July, Modelo was the most-sold U.S. beer for the second consecutive month. Constellation's portfolio also has other popular brands, such as Corona and Pacifico.  
STZ stock is up 14% in 2023. Most of that growth corresponds with the increased popularity of the Modelo brand. Now the company must prove to investors that all the growth isn't priced into the stock. 
The Constellation Brands analyst ratings on MarketBeat suggest STZ stock may be topping out. However, analysts are forecasting 14% earnings growth that may not be fully priced into the stock.  
Invest in the Most Popular Beer Brand 
Diageo plc (NYSE: DEO) is far from a pure play on beer. The company is best known for its line of spirits such as Johnnie Walker scotch, Captain Morgan rum, and Casamigos tequila. And this is where the company is building its reputation as a supplier of premium spirits.  
But it's also the holding company for Guinness, which is far from a niche brand. According to the international research firm YouGov, Guinness is the most popular U.S. beer among all adults at 58%. That percentage gets higher among millennials at 64%. 
DEO stock is down 4.4% in 2023 and is down by more than 10% in the last 12 months. And the Diageo analyst ratings on MarketBeat give the company a consensus Hold rating. However, the company is expected to grow earnings by 8% in the next 12 months. That's not necessarily reflected in the stock price.  
A Contrarian Pick Hiding in Plain Sight 
Anheuser-Busch InBev, Inc. (NYSE: BUD) is a contrarian stock to put on your fourth-quarter shopping list. It's true that this is the parent company of the much-maligned Bud Light brand. However, there are three reasons to believe that the company will benefit  
First, Bud Light is the official light beer of the National Football League. This means consumers will see the brand's logo on stadiums, TV screens, and in-store signage. Bud Light was the nation's best-selling beer in 2022. And prior to May it was a shoo-in to maintain that title in 2023.  
Second, this is a case of a company being different from a brand. Bud Light is one of many brands underneath the Anheuser-Busch InBev umbrella. It's easy enough to avoid buying a specific brand. It's more challenging to avoid every brand associated with the company.  
Third, Anheuser-Busch is an international company generating revenue in countries that aren't paying any attention to the controversy bedeviling the Bud Light brand.  
The proof of that statement is in the company's performance. In its July earnings report, the company came in light on the top line. However, revenue was higher on a year-over-year (YoY) basis. And earnings are on par with 2022 as the company heads into its two strongest quarters.