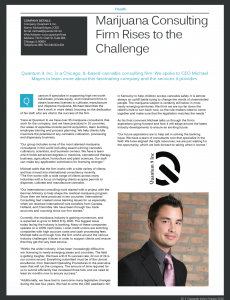 Corporate Visions Cannabis Consulting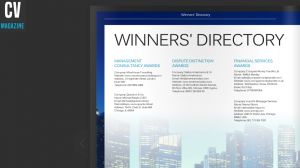 Best International Consulting Firm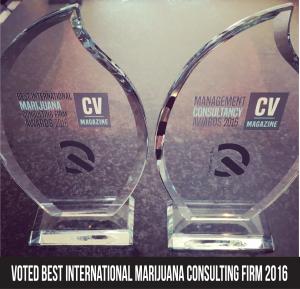 Best International Cannabis Consulting Firm Corp Visions
Quantum 9 Voted Best Management Consulting Firm in the US
CHICAGO, IL, U.S.A., December 9, 2016 /
EINPresswire.com
/ -- Quantum 9, Inc. an United States-based international
cannabis consulting
firm has been voted the
Best International Marijuana Consulting Firm
in the US by international magazine Corporate Visions Magazine. Corporate Vision (CV) has a vast network of industry insiders and corporate specialists dedicated to finding the best performing brightest, and most deserving companies from around the business world. Winners are decided by a combination of votes gathered from their network of respected industry partners and in-house research team. Each award is carefully scrutinized including the commitment to innovation, methods, and performance. The CV staff reviews each nomination including a competition review to ensure that only the most deserving companies for a vote.
About Quantum 9, Inc.
Quantum 9, Inc. is a Chicago, IL-based cannabis consulting firm. We specialize in winning cannabis business licenses for high net worth individuals, private equity, and investment firms to cultivate, manufacture and dispense marijuana. Our areas of expertise include permit acquisition, team building, employee training planning and optimization process planning. We help clients fully maximize the potential of any cannabis cultivation, processing and dispensary business.
Our team includes some of the most talented marijuana consultants in the world including award winning cannabis cultivators, scientists, and business owners. Our team holds advanced degrees in medicine, business, agriculture, horticulture and plant sciences. Our team will make any cannabis application submission for licensing stronger.
About Corporate Visions
Created by a highly experienced and passionate team of business experts, advisors, and insiders, Corporate Vision provides discerning readers worldwide with a wealth of news, features and comment on the corporate issues of the day.
Taking on everything from business strategy, expert opinion, analysis, corporate case studies, emerging trends, leadership, growth opportunities, and the challenges facing our country's foremost business leaders, Corporate Vision is an invaluable resource for leaders and decision makers looking, not only to be informed, but to improve the way they manage their operations, staff, technology, business partnerships, and supply chains with a view to creating a more profitable and successful business.
Kevin Mahoney
Quantum 9, Inc.
888-716-0404
email us here
International Hemp and Cannabis Consulting
%img{:src=>track_image_url, :height=>1, :width=>1}