The Blockchain-based online game ecosystem with an aim of utilizing the preeminence of Blockchain and promoting the Blockchain technology to be applied widely and systematically.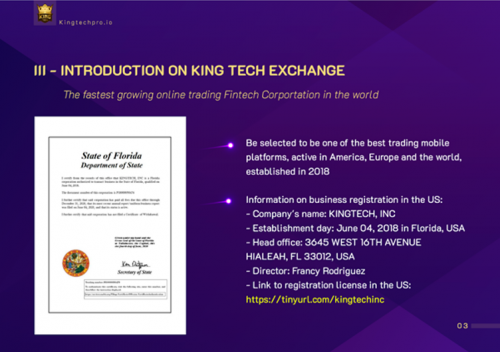 June 15, 2021 —
Recently, with the breakthrough of DEFI, NFT và Game Dapp, we, as founders of KingTech, decided to spend a certain amount of the revenue of these two ecosystems developing another NFT platform to expand KingTech ecosystem.
Let's get a better insight into this promising project.
VISION, MISSION, CORE VALUE
KingTech was selected as one of the best mobile payment platform, active in America, Europe and others in the world in 2018. KingTech is a technology company with many Blockchain-based products, making everything transparent, safe, public and secure. As a global tech company, KingTech believes that constant development is the greatest competitiveness advantage to successfully build up a multiplatform of DeFi- NFT – DApp.
THE PROBLEM KINGTECH SOLVE
KingTech is an Blockchain-based online game ecosystem with an aim of utilizing the preeminence of Blockchain and promoting the Blockchain technology to be applied widely and systematically.
KingTech aims at building up decentralized Internet infrastructure. To achieve this target, we apply Delegated Proof of Stake (DPoS) to avoid low transaction speed and high transaction fee as Blockchain Proof-of-Work (PoW).
Currently, KingTech has had over 1000 online games with game players from over 100 countries, collaborated with over 30 global partners active in the potential KIN field.
Grasping the huge potential of this pioneering technology, KingTech expects to bring many breakthrough improvements to the ONLINE game field.
KINGTECH ECOSYSTEM
-Exchange: Robot AI helps to maximize profits so that investors can get the best results when investing in the Crypto market.
-KingGame: This is a sports game system integrated with the technology to connect to many big partners in the world with the aim of bringing new and unique experiences to users. With a network of global partners, we provide constant service and support many cryptocurrencies to help all users.
-Crypto lending: This system helps lenders maximize profits from the system.
-KIDEX: This BSC-based decentralized exchange facilitates transactions to be done quickly, reduce slippage and maximize transaction fees.
-NFT + FomoJackpot: A decentralized game and lottery app is built on Binance Smart Chain.
ABOUT KIN TOKEN
KIN is token used in KingTech, a decentralized ecosystem which helps to build up a Blockchain-based entertainment system and exchange.
Currently, token KIN is built successfully on Binance Smart Chain.
BASIC INFORMATION OF KIN TOKEN
Ticker: KIN
Contract: 0xf088951786015b8418e35645a4c175d70db2f9e3
Decimals: 18
Blockchain: Binance Smart Chain
Token type: Utility Token
Total Supply: 500,000,000 KIN
Circulating Supply: KIN
KINGTECH- THE REASON NFT BECOMES SPECIAL
The NFT field is experiencing an impressive exponential growth. In terms of trading volume since January, the number of NFT transactions to date has tripled. According to the statistics by DappRadar, the average number of NFT transactions has increased by nearly 300%, from 21,815 per day in January to 82,373 in May. This number spiked even higher on May 12 when the number of transactions reached almost 94,000 per day.
Non-Fungible Tokens have unique attributes. They are usually associated with a specific asset. They can be used to prove ownership of digital items such as game skins through ownership of physical assets.
Other tokens are fungible, like coins or banknotes. Besides, Fungible tokens are identical, they have the same properties and values on exchange.
For the project to quickly achieve success, we are aware of the problem that a strong community is indispensable. That's why we take the opportunity to develop projects together for those who are active in building the KingTech network, for investment funds, KOLs and ordinary users on KingTech. We will spend an allocation of KIN tokens for investors who want to participate in the development of a unique and innovative NFT role-playing game project.
THE WAY TO OWN NFT OF GAME KINGTECH
The NFT game will produce hundreds of NFT characters, each character will have unique and outstanding skills and characteristics that no other character possesses. Gamers will become treasure hunters, but on the way to find treasure, they will have to fight with many monsters, even fight with other treasure seekers to win extremely valuable treasures that have been NFT and can be traded on NFT marketplaces.
Participants who want to own NFT of characters need to own KIN Tokens to join StaKINg and receive NFT. Game NFTs can be auctioned with high value on NFT marketplaces.
At the same time, KingTech plans to open the sale of KIN Tokens through 3 rounds: Seed, Private and Public.
Let's be the first one to experience KIN NFT which will be launched in June, 2021 to become a tech millionaire in the future.
Follow our social channels for more information:
Youtube: https://youtu.be/kQ2bXpB-XMg
Twitter: https://twitter.com/KingTechProfile
Telegram: https://t.me/KingTechAnnoucement
Contact Info:
Name: Michele Troughton
Email: Send Email
Organization: KingTech Inc
Website: https://KingTechpro.io
Release ID: 89026958