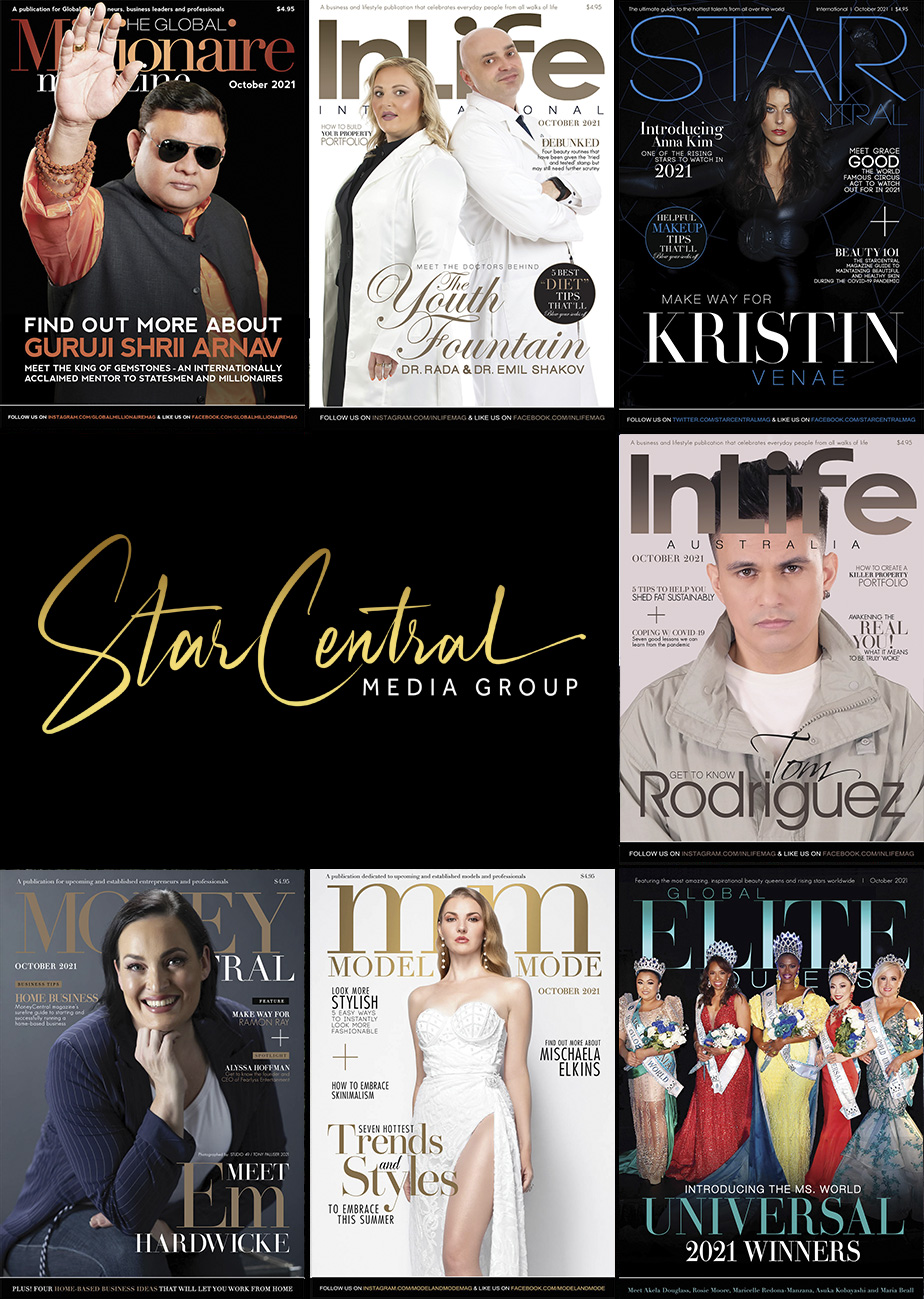 Australia's premier entertainment hub, StarCentral Media Group, has released its monthly media movements covering outstanding career moves and other industry news. This list contains prominent Entrepreneurs, Artists, Designers, Social Media Influencers, among others.
Let's take a look at the movers and shakers that rocked their way in October 2021.
Kristin Venae is the rising star behind the cover of StarCentral magazine (October 2021 issue)
Kristin Venae is a triple threat performer with soulful and rhythmic vocal tonality. Starting her live performance tours and artist development as a member of various bands such as the Latin group 'Ritmo De Tropical', 'Loose minds', and The Magnificent Companeros'. Her highly anticipated debut album 'Black Widow' is a nostalgic and refreshing blend of Pop/RNB/Rock & soul. She was influenced as a child by artists such as Prince, Michael Jackson, Mariah Carey, Whitney Houston, and Ricky Martin – influences that give a unique blend of genres from start to finish.
Find out more about Kristin via this link: https://starcentralmagazine.com/rising-stars/2021/10/04/kristin-venae/
Guruji Shrii Arnav is the entrepreneur behind the cover of Global Millionaire magazine (October 2021 issue)
Guruji Shrii Arnav, considered the Father of Astro Gemology and a mentor to Statesmen and Millionaires, is an internationally acclaimed spiritual Guru who uses techniques based on spirituality, Astro Gemology, and modern management methods. The author of the Magnum Opus" Secrets of Jyotish Gems"( translated in 6 languages), he is the mentor of the world's largest E-commerce portal to buy natural Gemstones online (Gemstoneuniverse.com) that has a mind-boggling reach of 4 million monthly users and has been around since the early days of the internet since 1996.
Find out more about Guruji via this link: https://globalmillionairemag.com/2021/10/06/guruji-shrii-arnav/
TV1 Australia launches TV1 News
TV1 Australia is pleased to announce the launch of TV1 News! TV1 News is an independent news site, delivering entertainment news and interesting local and national stories thanks to a team of dedicated writers. TV1 News will deliver the news spanning movies, entertainment, lifestyle, fashion, business, and money on a daily basis.
Find out more about TV1 News via this link: https://tv1news.com.au/
Dr. Rada Shakov & Dr. Emil Shakov are the entrepreneurs behind the cover of InLife International (October 2021 issue)
Dr. Rada Shakov, MD, and Dr. Emil Shakov, MD Of The Youth Fountain have taken the health and wellness practice by storm, expertly helping their clients reclaim their vigour, vitality, and confidence in their bodies. This genius of a couple is adept at gastroenterology, general surgery, weight loss, skincare, hair restoration therapy, aesthetic treatments, and more. Dr. Emil Shakov founded the wellness center in 2013 with his wife Dr. Rada Shakov eventually expanding the practice in 2015.
Find out more about Dr. Rada Shakov & Dr. Emil Shakov via this link: https://www.inlifemagazine.com/2021/10/dr-rada-shakov-dr-emil-shakov/
Mischaela Elkins is the model behind the cover of Model & Mode magazine (October 2021 issue)
Mischaela Elkins was crowned a national delegate in the 15th Anniversary Ms. Universe competition for 2021 after two rounds of qualifications and eliminations. She is a businesswoman, model, author, and masterclass coach. She studied Business Administration in undergraduate and graduate school and holds degrees from Indiana University (B.S.) and IE Business School (MBA) respectively.
Find out more about Mischaela via this link: https://modelandmodemag.com/2021/10/mischaela-elkins/
Em Hardwicke is the shepreneur behind the cover of MoneyCentral magazine (October 2021 issue)
For Em Hardwicke, like for so many others, 2020 was a year never to be forgotten… COVID saw her get stood down from her job and ultimately made redundant – leaving her without work and her family not knowing what was next. She eventually refocussed and at the age of 46, after 25 years in Event Management, she's now embarking on a career in Real Estate and Property Management, which is exciting for her giving her a new focus. However, she also couldn't let all of her knowledge and experience in event management go to waste, so she took the opportunity to rebrand and relaunch. Hence, her Event Management Consulting business, Meraki Events and Public Relations as well as The Meraki Academy of Personal Development and Coaching were born.
Find out more about Em via this link: https://moneycentralmag.com/2021/10/em-hardwicke/
The Ms. World Universal 2021 winners are the queens behind the cover of GEQ Magazine (October 2021 issue)
World Universal is a unique organization that celebrates ALL women. They seek to provide a platform and events where all women are represented and supported. World Universal accepts ALL women and through the Universal Language of Love, seeks to lift up and empower these women, and together we can make a better world. To support this mission, World Universal works with multiple charities globally from helping women who have experienced domestic violence, to LGBTQ youth, to Cancer research.
Find out more about the Ms. World Universal 2021 winners via this link: https://globalelitemediagroup.com/2021/10/ms-world-universal-2021-winners/
Tom Rodriguez is the actor behind the cover of InLife Australia (October 2021 issue)
Tom Rodriguez originally got started in showbiz by becoming a housemate in Pinoy Big Brother: Double Up. In 2013, Rodriguez left Be Careful with My Heart and signed a three-year exclusive contract with GMA Network. Since then he has appeared in several notable TV shows such as My Destiny, Someone To Watch Over Me, Mulawin versus Ravena, I Heart Davao, The Cure, and Love of My Life. He also appeared in several movies such as So It's You, The Amazing Praybeyt Benjamin, No Boyfriend Since Birth, The Significant Other, and Maledicto. Currently, he's one of the leading protagonists in the drama romance series The World Between Us where he plays Bryan Libradilla.
Find out more about Tom via this link: https://www.inlifemagazine.com/2021/10/tom-rodriguez/
Media Contact
Company Name: StarCentral Media Group
Contact Person: Media Relations
Email: Send Email
Phone: 02 8001 6594
Country: Australia
Website: starcentralmagazine.com