With over 600 different courses and 60,000 learners globally, the sky is only the starting point for the graduate school
The world's premier graduate school in the metaverse, Aventis Metaverse, is on a mission to making executive education affordable and easily accessible for learners around the world through their unique EduFi learn-and-earn model.  What's more, Aventis Metaverse awards $AVTM tokens, sponsored by Polygon, when students learn a new skill or take a course about metaverse, data analytics or nft marketing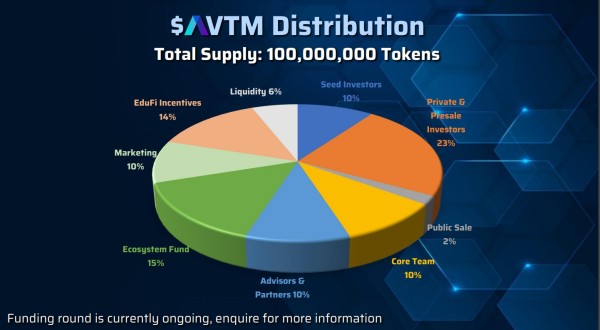 Education in the metaverse is gradually gaining popularity owing to the deeply immersive experience, showcasing of world-best practices, and maximum engagement afforded to the stakeholders in the sector; namely educators, mentors, and learners. On Aventis, learners can get involved and interact on both physical events and digital classroom learning. The graduate school utilizes only the top-notch metaverses with the best UI available to ensure a wholesome and rewarding learning experience, alongside fostering a global community of scholars without borders. Samuel Teo, Co-founder of Aventis Metaverse shared, "we are extremely excited to tap on the immense opportunity in the metaverse to make executive education accessible and affordable to working professionals across the world. Our partnership with Polygon Studio will allow us to create immersive and interactive learning experience for both new and existing learners.
Aventis Metaverse grants individuals unhindered access to a range of short courses, as well as awarding Masters degrees and graduate diplomas in over five hundred courses. Furthermore, students are able to earn tokens while on their learning journeys and receive NFT badges and widely-recognized certifications at the successful completion of their educational pursuits, regardless of the duration. "Our unique EduFi and Learn-and-Earn platform will grade students join with their teachers while learning from home to collaborate and complete gaming-style assignments, using avatars and earning online currency for completing the assigned tasks, without compromising on the quality of learning" said Mr Shaun Sung, Chief Marketing Officer, Aventis Metaverse
In addition, the graduate school has set up visionary plans to expand their campus and classrooms across the metaverse to accommodate millions of learners and the rising applications into the digital institution. The graduate school hopes to garner the attention of investors, educators, journalists, learners, or talents who are ready to be involved in the next level of education and earn passive income while at it.
For more information, please visit www.aventismetaverse.com
About Aventis Metaverse
Aventis Metaverse is the world's first metaverse graduate school, working unceasingly to transform the educational system by making executive education accessible and affordable to all. The school strives to be the global leader in executive education by incentivizing learners through their proven EduFi social economic model.  
Media Contact
Company Name: Aventis Metaverse
Contact Person: Mr Shaun Sung
Email: Send Email
Phone: (65) 6720 3333
Country: Singapore
Website: http://www.aventismetaverse.com/